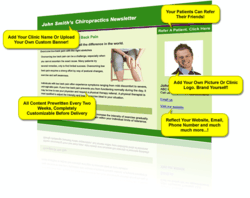 With Chiropractic Newsletter, patients will gain access to more information about a clinic's services and information.
Denville, NJ (PRWEB) April 30, 2012
Chiropractic Newsletter, a new and latest creation by marketing expert, Nitin Chhoda, automatically delivers two content rich chiropractic newsletters to patients without practitioners ever having to write a single word. The Chiropractic Newsletter results in more new patients and qualified referrals from newsletter readers. No other service comes remotely close in terms of price, benefits and customer service. The system automatically delivers content rich newsletters to patients and they don't have to do any additional work.
Today's busy private chiropractic business managers don't have the time to write newsletters filled with content since they're busy running their practice. Very few have time to spend several hours each day creating fresh content, writing articles, and formatting newsletters. That's why Chhoda, also a private practice owner, developed this time saving chiropractic patient newsletters technology to help clinics grow their business. As per his latest blog post, chiropractic newsletter delivers two fresh, content rich chiropractic advertising newsletters in multiple formats to patients on the clinic's behalf.
"It is chiropractic marketing and chiropractic newsletters for chiropractic advertising," states Mr. Chhoda. He understands that clinic managers don't have much time to spend on marketing. It is a fully customizable, technology guaranteed to resolve chiropractic newsletter service marketing problems once and for all. Clinic managers can sit back and relax because the content is generated by a team of licensed physical therapists who go to work every two weeks, keeping them in the minds of patients.
Every content rich newsletter is specifically designed to promote internal referrals. The built-in 'refer a friend' feature in each newsletter helps to create growth for the clinic and their patient data base. They can transmit the newsletter to all of their current and potential new patients with the push of a button using the integrated fax capability.
This is a patient newsletter and it with a simple strategy called the clinic profiling principle. It can become infinitely more powerful than traditional newsletter. Most physician newsletters are never read by the patient. Companies that market most traditional newsletters fail to realize that the purpose of the newsletter is engagement and consumption. With Chiropractic Newsletter, patients will gain access to more information about a clinic's services and information. The Chiropractic Newsletter, because it is delivered via e-mail is less expensive to deliver, faster to transmit and guarantees a high exposure rate, as compared to regular snail mail.
Chhoda's office can be reached by phone at 201-535-4475. For more information, visit the website at http://www.nitin360.com.
ABOUT NITIN CHHODA
Nitin Chhoda is a licensed physical therapist, a doctor of physical therapy, and a certified strength and conditioning specialist. He's the author of "Total Activation: The New 5 Step Fitness Mantra" and "Marketing for Physical Therapy Clinics." He's been featured in numerous industry magazines, major radio and broadcast media, and is the founder of Referral Ignition training systems, Private Practice Summit, the Private Practice Formula and the Private Practice Mastermind group. Chhoda speaks extensively throughout the U.S., Canada and Asia. He's the creator of the Therapy Newsletter, along with Clinical Contact, a web-based service that boosts patient arrival rates.
###