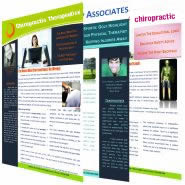 With Chiropractic Newsletter, patients easily gain access to more information about a clinic's services and information.
Denville, NJ (PRWEB) May 28, 2012
With this new, powerful marketing system which is much more effective than phone calls, postcards or seminars, chiropractic clinic managers can reach everybody at one time, and present high quality, valuable information to patients. As per Chhoda's website, the Chiropractic Newsletter system automatically delivers two content rich chiropractic newsletters to patients. The system is designed so that when a person visits the clinic's website, and enters his/her email address and other information, it automatically generates a subscription to the newsletter and gives access to instantly downloable Ebooks. This process not only builds the clinic's email address database, but also generates qualified new patient leads. No other newsletter service comes close in terms of price, benefits and customer service. All this is done with little or no additional work on the part of the clinic managers or owners. They can if they so choose change newsletter content as needed.
With this highly effective chiropractic business developed by author and physical therapist, Nitin Chhoda, developed the Chiropractic Newsletter system. He understands the need for effective chiropractic patient newsletters so that practices can reach out to the local community and keep their name and reputation to the forefront of competitors. It is chiropractic marketing and chiropractic newsletters for chiropractic advertising," states Mr. Chhoda.
Chiropractic advertising is a highly competitive market and most clinic managers or owners don't have time to sit down and create effective content each month. That is why the Chiropractic Newsletter system is the most effect way to solve chiropractic newsletter service marketing problems once and for all. Each newsletter is designed to reach out to current patients and promote internal referrals. The bi-monthly letter can be transmitted by email, fax or even printed out as a beautifully color rich handout for the office or around town.
This is a patient newsletter with a simple strategy called the clinic profiling principle. It can become infinitely more powerful than traditional newsletter. Most traditionally produced newsletters are not read by the patient and companies that produce this type of newsletter do not completely understand what is needed to be effective and capture the attention of the recipient. This is where Chiropractic Newsletter differs. With Chiropractic Newsletter, patients easily gain access to more information about a clinic's services and information.
For more information on the Chiropractic Newsletter system and how it could help your practice generate more effective patient leads, please go to http://www.nitin360.com or email support@therapynewsletter.com.