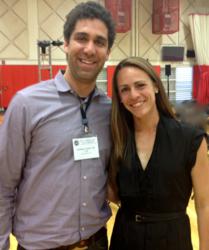 San Francisco, CA (PRWEB) June 04, 2013
Dr. Andrew Cohen of ProActive Chiropractic recently attended the 2013 Chiropractic Sports Sciences Symposium in Colorado Springs, Colorado from April 18-21. The symposium offered an opportunity to learn from the best sports psychologists, nutritionists, orthopedists, physical therapists, and chiropractors.
The seminar was hosted at the United States Olympic Center (USOC) complex, where a few months ago Dr. Cohen had worked with the Olympic Athletes.
One of the most important components that Dr. Cohen took away from the conference was the dedication and commitment to help Olympic athletes deal with the stress of high-end performance. Stress can affect performance.
Dr. Cohen spoke with Jenny Simpson, a gold medalist runner at the 2011 World Championships, about how she deals with stress associated with competing for gold at the Olympics. "When you're surrounded by competitors in the holding room it can be extremely intense looking around at your competition," said Simpson. Her take home is to train hard and love what you're doing; that's what's most important.
According to Dr. Cohen, the doctors and medical staff at the USOC work with Olympic athletes day-in and day-out and described tools and tactics to improve athletic performance, especially after an injury. He can take the lessons he learned and apply it to patients in San Francisco that don't have access to the Olympic Medical Center but still want that level of care.
About the company:
ProActive Chiropractic practices healthcare the old-fashioned way. Care is provided in the chiropractic office by doctors; not a machine, not an assistant, not a technician. Customers spend a minimum of 20 minutes of face-to-face time with chiropractic doctor, Andrew Cohen, perhaps the best chiropractor in the Bay Area, at every appointment. He sees patients for low back pain, neck pain, shoulder dysfunction, knee complaints, ankle sprains, jaw pain and migraine headaches, just to name a few primary complaints.
For those unsure that ProActive Chiropractic's unique approach to chiropractic treatment is the right avenue to take, consider their satisfaction guarantee. Their personal pledge assures that their customers are happy with their practice philosophy and approach. If customers are not completely satisfied following their first session, simply tell the staff at the end of the appointment and they will refund the money in full on the spot. For more information, please visit their website at http://www.ProActiveSF.com.