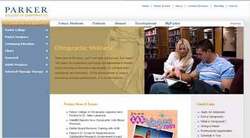 Employment is expected to grow faster than average because of increasing consumer demand for alternative health care.
Dallas, TX (PRWEB) December 22, 2008 -
Parker College of Chiropractic announces the launch of a recruiting campaign targeting career changers and other potential students. During today's economic downturn, when many other options are closing down, chiropractic education is a viable and valuable step in a new successful career venture.
In times of economic stress, many people continue their education as a means of finding a new career. Parker's chiropractic school provides new career pathways in one of the fastest growing industries in the country; currently, 52% of chiropractors own their own practices. Parker is a great place to begin anew for people returning from military service, those interested in medical and alternative healthcare professions, and avid learners who want to participate in world-renowned chiropractic research.
According to the Bureau of Labor Statistics, "Employment is expected to grow faster than average because of increasing consumer demand for alternative health care." From the same report: "Employment of chiropractors is expected to increase 14% between 2006 and 2016, faster than the average for all occupations. Projected job growth stems from increasing consumer demand for alternative health care."
The Parker College of Chiropractic education consists of training for a Doctor of Chiropractic degree, as well as a Bachelor of Science in Anatomy and Bachelor of Science in Health and Wellness. Other benefits offered at the chiropractic school include advanced chiropractic business and practice building courses, clinical experience in the first trimester, a technologically-advanced campus (featuring web-enabled classrooms, lectured podcasts, and wireless access), and an award-winning research facility whose partnerships include Harvard, Yale, the University of Alabama, and other world-renowned facilities. Students at Parker's chiropractic school will receive clinical experience beginning in the first trimester, including a clinic abroad program.
"I chose Parker because throughout my tour I saw example after example of the vested interest the entire staff takes in each student," said a prospective student from Hallsville, Texas. "Here, each student has every opportunity to succeed."
For more information on changing careers and building a successful chiropractic practice, visit http://www.ParkerCC.edu.
About Parker College of Chiropractic:
Parker College of Chiropractic is a nonprofit, co-educational, private professional institution of higher education, the purpose of which is the preparation of men and women to become Doctors of Chiropractic. The purpose of the school's professional education is to prepare the Doctor of Chiropractic as a primary health care provider and gatekeeper to the health delivery system using the holistic health model. Students receive education in basic science, chiropractic science, clinical science and techniques.
###