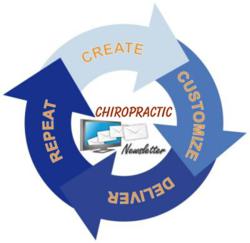 This newsletter is a great tool to market to patients and doctors alike.
Denville , NJ (PRWEB) December 23, 2011
The success of chiropractic clinics is a result of synergy of proven systems. Among these contributory factors, one thing stands out: they are successful because of the relationships they have with their patients. As true to all other industries, people don't buy services; rather, they invest in a relationship. This and more can easily be accomplished by the chiropractic newsletter. Chiropractic Newsletter is guaranteed to help clinics build trust and strong relationships with their patients, while educating the patients on the treatment philosophy and various treatment options.
Chiropractic Newsletter supplies chiropractic clinics with completely done-for-you and customizable newsletters, delivered to the patients twice a month in multiple formats, on behalf of the clinic. This is guaranteed to accomplish the following:
1. Attract new patients
2. Strategically market the chiropractic clinic
3. Stimulate patient referrals
4. Build strong patient relationships
5. Distinguish the clinic
6. Define the clinic's treatment niche/specialty
Chiropractic Newsletter makes communicating with new and existing patients fast and easy, boosts referrals and brands the clinic from other competitors in the area. And it is done automatically. No need for endless hours of calling and sending individuals emails to patients.
As a testimony that chiropractic newsletter works, Anthony Walker from DC says "This newsletter is a great tool to market to patients and doctors alike. The tips and secrets are very user friendly. I particularly like the refer-a-patient-click-here feature".
The chiropractic newsletter service comes with a full refund, no questions asked, to those who are unsatisfied for any reason during the first 60 days.
Helen Adams of DC is one of those who took advantage of this offer and has this to say "This is a great product and will be one of tremendous benefits to the therapists trying to market their practices. It is an absolutely amazing marketing powerhouse giving the user far greater flexibility for chiropractic marketing than anything I have seen in the market."
Clearly, the days of waiting for patients to knock on the doors of clinics are over. We have to accept that today private practitioners need to create a niche for themselves in the community and a chiropractic patient newsletter is an effective tool to accomplish that.
Contact:
Nitin Chhoda, CEO
201.535.4475
http://www.chiropracticnewsletter.com
# # #