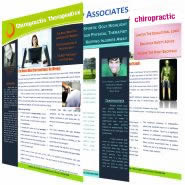 The goal is to have the professional's name in front of clients as often as possible without being annoying or intrusive.
Denville, NJ (PRWEB) May 20, 2012
"We went to school to become expert clinicians, but in the real world, we come face-to-face with glaring deficiencies in our marketing skills," said Chhoda. "We learn as we go along, make expensive mistakes, spend thousands on seminars and copy the competition without knowing what works best. The mistakes we make may not be apparent in the short term, but they can cost us significantly in the long run."
Communication is the key factor in relationships of all types and it's essential for creating loyal patients who can't wait to refer their provider to their family, friends and business associates. No matter what the practice owner's specialty, they will benefit from ongoing patient contact.
Controlled communication
Nitin Chhoda, a chiropractic marketing expert, said patients and prospects should be viewed as a mass of individuals seeking direction. Practice owners that are stingy with reminders, appreciation and other forms of patient contact are just asking clients to seek services elsewhere. He noted that many professionals consider maintaining contact with patients as a tedious, time consuming and expensive process. With the appropriate office systems in place, contact is powerful, inexpensive and an automatic marketing process.
Chhoda recommended office systems such as Clinical Contact or Chiropractic Newsletter that provides multiple methods of communication. Text and voice messaging is available for tech-savvy patients, along with phone and regular mail for those who haven't transitioned to the digital age.
Repetition in marketing
Repetitive contact can take many forms, including, email, phone calls, newsletters and downloadable materials. The goal is to have the professional's name in front of clients as often as possible without being annoying or intrusive. Appointment reminders, birthday wishes, gift cards for the most valued patients and newsletters all combine to make a powerful statement.
"The average patient must hear your message at least 10 times before they consider you to be a prime provider," said Chhoda. "I recommend two to four contacts each month to gently sway the masses in your favor."
Multiple methods
Chhoda strongly advises practice owners not to rely on a single method of contact. Younger patients are more likely to respond to text or voice messages. Older clients appreciate a postcard, phone call or email, and a fax could be the best way to reach another professional. He advises owners not to discard any method as inconvenient or outdated.
Leverage existing patients
One of the most underutilized sources of referrals and new prospects is a practice owner's current patient list. Contacting existing patients once a week is an effective means of building long-term relationships and creating a source of referrals. "Each patient feels special and they reciprocate the feeling," said Chhoda. "Practice owners should spend less time and money chasing new business and patents, and more time working on their base of existing patients."
Chhoda's new tips for creating effective patient communications builds relationships with clients that result in repeat business and multiple referrals. Patient contact doesn't have to be costly - it's an investment in the practice's future. To be perceived as the provider of choice, practice owners must persevere in their patient contact such as chiropractic newsletter service, so when clients require services, theirs is the first name that comes to mind.
Chhoda's office can be reached by phone at 201-535-4475. For more information, visit the website at http://www.nitin360.com.
ABOUT NITIN CHHODA
Nitin Chhoda is a licensed physical therapist, a doctor of physical therapy, and a certified strength and conditioning specialist. He's the author of "Total Activation: The New 5 Step Fitness Mantra" and "Marketing for Physical Therapy Clinics." He's been featured in numerous industry magazines, major radio and broadcast media, and is the founder of Referral Ignition training systems, Private Practice Summit, the Private Practice Formula and the Private Practice Mastermind group. Chhoda speaks extensively throughout the U.S., Canada and Asia. He's the creator of the Therapy Newsletter, along with Clinical Contact, a web-based service that boosts patient arrival rates.