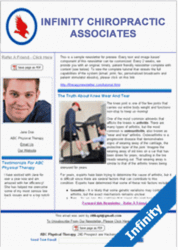 Communication is a key element in any practice, from staff to patients.
Denville, NJ (PRWEB) January 06, 2012
"As a private practice owner, the last thing we want is a half empty schedule and we need multiple therapy management systems in place to minimize gaps in our patient schedule," said Chhoda.
Communication is a key element in any practice, from staff to patients. As the preeminent authority on private practice business, Chhoda has identified four services to insure patient schedules are constantly filled.
Patient Newsletters
A chiropractic newsletter is more than a means of advertising. They inform and serve to keep the chiropractor's name and services in front of the patient. The Chiropractic Newsletter is a fully customizable, done-for-you solution to create and distribute chiropractic patient newsletters. Patient newsletters build trust. They can be distributed as physical handouts in the office, delivered through the mail and mobile messaging, and online. They're powerful reminders that also generate referrals.
Free Recorded Messages
Many patients may be reluctant to call the office directly, but will gladly listen to a prerecorded message. A hotline of prerecorded messages can be used to educate, inform, and connect with potential patients. IfByPhone provides an easy hotline solution. It's the same service Chhoda uses and he's arranged a special discount with the service for his readers.
Mobile Marketing
There are over 5 million mobile devices currently in use, providing multiple means of reaching patients. Those who ignore mobile opportunities do so at the risk of losing patients. Chiropractic marketing in today's fast-paced world includes pre-recorded voice mails, SMS text messaging and appointment reminders. Clinical Contact (http://www.clinicalcontact.com) gives practice owners the ability to contact patients through those means and others, including social media, two-way messaging, and videos and pictures.
Thank You
A simple thank you note, card, email or small gift adds a personal touch and makes a big impression on patients. It lets them know they're more than just a patient number in the practice's filing system. Smart chiropractic marketing means obtaining email addresses for a cost effective means of contact. Send Out Cards (https://www.sendoutcards.com/patients) is a service that allows users to send free emails in English, Spanish and French to thank patients for their patronage, while offering them special deals or discounts as part of the practice's "family."
As the preeminent authority on managing and marketing small and medium sized practices, Chhoda provides easy to implement chiropractic marketing methods for short- and long-term solutions to insure practices thrive, even in a faltering economy. To remain competitive in the prevailing economic climate, Chhoda's four essential marketing services provide practice owners with the techniques to retain current clients and generate new patients for continued growth and revenues.
Chhoda's office can be reached by phone at 201-535-4475. For more information, visit the website at http://www.nitin360.com.
ABOUT NITIN CHHODA
Nitin Chhoda is a licensed physical therapist, a doctor of physical therapy, and a certified strength and conditioning specialist. He's the author of "Total Activation: The New 5 Step Fitness Mantra" and "Marketing for Physical Therapy Clinics." He's been featured in numerous industry magazines, major radio and broadcast media, and is the founder of Referral Ignition training systems, Private Practice Summit, the Private Practice Formula and the Private Practice Mastermind group. Chhoda speaks extensively throughout the U.S., Canada and Asia. He's the creator of the Therapy Newsletter, along with Clinical Contact, a web-based service that boosts patient arrival rates.
###