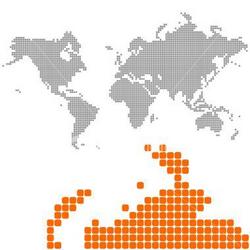 Atlanta, GA (PRWEB) August 11, 2009
Chiropractic marketing consultant, Dr. Matthew Loop, has officially relaunched his social media New Patient generation system. This immensely popular video training program teaches chiropractors how to get new patients from the internet without spending any money on advertising.
Dr. Loop has been widely recognized as the professions leading authority at bringing proven social media marketing strategies to the floods of chiropractors since the beginning of the Web 2.0 phenomenon. He lives his life with a high degree of passion for helping others live the prosperous life they want while showing doctors how to build additional streams of income online.
In lieu of this, he's always finding ways to give more value and has a wealth of resources in place to help fellow chiropractors become highly profitable online. Dr. Loop created this system over 3 years ago and was the first consultant to harness the power of social media for new patient generation. His out-of-the-box marketing approach can be credited with initiating a much needed chiropractic marketing paradigm shift in a short time. Branding yourself and attracting new patients from Twitter, YouTube, Facebook, LinkedIn, Myspace, and other forms of social media has been one of the best kept secrets that many top DC's have been using the past couple years.
Dr. Matthew's 42 video, social media marketing for chiropractors boot-camp provides proven practice marketing tactics that guarantee results to help doctors quickly realize the increase in new patients they want. It doesn't matter if you're marketing your chiropractic office, a book, or an online information product. This phenomenal new patient and residual income generation system provides chiropractors the tools to drive large amounts of traffic to their websites, sales pages, and ultimately through their doors.
Any chiropractic practice owner will be impressed with the time-tested results of integrating the "Social Media Elite" marketing system into their current arsenal. This super effective internet marketing video training course is helping countless chiropractors get more patients and make a bunch more money daily.
This chiropractic marketing program is very affordable, user friendly and gets highly-targeted potential patients calling you! It's an easy to understand course that guides you by the hand, leading you every step of the way. In a relatively short amount of time, your phone can be ringing off the hook with potential new patients that are looking to speak to you.
Since the chiropractic field is so competitive, more chiropractors are coming aboard in large amounts and investing in "Social Media Elite" and Web 2.0 consulting with Dr. Loop. This program gives you the ultimate competitive edge that you need in this uncertain economy. This state-of-the-art approach to marketing in 2009 offers chiropractors and entrepreneurs the power to create a bright future while living the lifestyle they want.
Visit http://DCincome.com right now for more information.
###