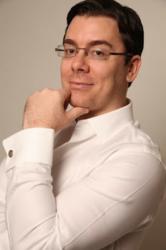 A lot of docs "do" social media. However, it's not what you do that determines your success, it's HOW you do it.
Atlanta, GA (PRWEB) November 20, 2012
Internationally recognized social media marketing expert and entrepreneur, Dr. Matthew Loop, used his 7th anniversary in business to announce his continued commitment to helping chiropractors create thriving, recession-proof practices as well as showing them how to successfully monetize their expertise on the web.
He strategically shows doctors how to turn their knowledge and passion for health into highly-sought-after digital information products that can be offered to the public online. These include things like iPhone apps, private VIP membership sites, ebooks, video courses, teleseminars, coaching programs, DVD trainings, webinars and more.
When contacted in his Atlanta office Loop said, "We're blessed to live in an amazing time and there's such an abundance of opportunity for fellow chiropractors. Any doctor can grow a big practice and/or turn their passion and experience into a digitally delivered information product that can be sold online. The public would gladly pay for his/her advice if it's positioned, packaged and marketed correctly."
Loop went-on to say, "The problem is, the overwhelming majority of chiropractors haphazardly use social media or don't know where to start. This is partly because of lack of internet marketing know-how as well as bad advice from supposed experts. The average, aspiring chiropractor is just not trained in how to strategically create value online while building strong social proof, relationships and a culture of raving fans. If this is done the right way, it results in exponential practice revenue increases and positive press and publicity. A lot of docs "do" social media. However, it's not what you do that determines your success, it's HOW you do it. So much is being left on the table right now."
He also commented, "I work closely with chiropractic professionals to show them how to MAXIMIZE their effectiveness on social media in order to deliver value, empower others toward better health, build fan rapport and create new, sustainable income streams from the internet. The great part is, this can be done from the comfort of home without a lot of time and effort.
Among many seasoned accomplishments, Dr. Loop is the CEO of DCincome, which is world's largest and most trusted custom social media marketing training company for chiropractors.
His passion is helping doctors of all backgrounds serve more patients while creating real, sustainable, and recurring income from the internet like what he has personally done. Matthew's success in the social media marketing world have made him one of the highest paid internet marketing consultants in North America.
His motto is "earn more, experience more, and give back."
"So much of the social media landscape is about understanding what you can offer that will be of high-value to the patient, while creating strong engagement, and bringing excitement to your audience," says Loop. He goes on to say, "Knowing how to create and develop digital information products, that others can't wait to get their hands on, is an art that I've mastered and the average chiropractor can, too."
The great thing about the web is that it allows any chiropractor with a passion an unprecedented opportunity to deliver value, serve more, give back, and monetize their expertise in a professional way. The secret is proper positioning and knowing how to stand out in a positive manner. Dr. Loop has perfected this. The entrepreneur continues to develop his own ideas and projects focusing on things about which he is passionate while he helps others do the same.
Chiropractors interested in growing their practice by 50% or more in the next six months, or who just want to create new revenue streams with social media can email VIP(at)dcincome(dot)com to see if they qualify for private coaching.
There's an interview process for all applicants. For those private clients accepted, Dr. Loop provides the guidance, resources, tools, and know-how that builds any practice fast while dramatically increasing revenue generated in the process.
For more information on Matthew Loop, his companies, and how he helps fellow chiropractors, visit his blog at http://DCincome.com/blog where you'll find valuable free trainings, a success store and much more. Also, visit and "like" his page on Facebook at http://Facebook.com/MatthewJLoop