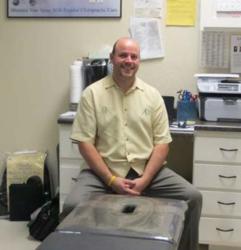 Throughout the months of May and June, Dr Tropea is offering two Chiropractic visits for only $99 – a $170 value. During these visits, Dr Tropea will perform Chiropractic adjustments, and advise on diet, exercise and overall physical wellness
Sunnyvale, CA (PRWEB) May 24, 2013
May is National Physical Fitness and Sports Month, and Tropea Chiropractic is helping clients reach their potential through proper nutrition and optimal physical performance by ensuring the correct alignment of muscle and bone throughout the body.
Dr. Tropea strongly believes that the path to physical wellness is through balanced diet, and correct adjustment of the body frame. He welcomes those looking for a Chiropractor in Sunnyvale, CA to visit him at Tropea Chiropractic - a wellness center that focuses on three fundamental principles for full-body health: Chiropractic Adjustments for bone and frame adjustments, Therapeutic Massage for muscle and soft-tissue work, and Nutritional Supplements to promote weight loss and body fuel.
Throughout the months of May and June, Dr Tropea is offering two Chiropractic visits for only $99 – a $170 value. During these visits, Dr Tropea will perform Chiropractic adjustments, and advise on aspects such as diet, exercise and overall physical wellness.
"As the summer season approaches, we should all be looking at our health and making sure our bodies are ready for increased levels of activity", said Dr. Tony Tropea. "Making sure your body is fully functional, inside and out, increases your sports performance, provides you with more energy, and gives you increased vitality that benefits both you and your family."
As an experienced sports chiropractor, Dr Tropea's clients have included the Ice Hockey, Basketball and Rugby teams at Concordia University, Montreal Supra Professional Soccer Team and Montreal Alouettes Professional Football Team. Individuals he has worked with have included Ronnie Stern, former San Jose Sharks Hockey player, and Patrice Brisebois of the Montreal Canadians Hockey Team.
To find out more about Tropea Chiropractic, visit http://www.drtonytropea.com, call (650) 962-0909, or vist the clinic at 260 S Sunnyvale Ave #2, Sunnyvale, CA 94086.