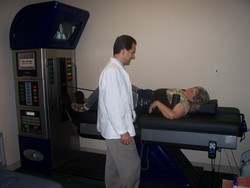 After 11 years in practice, I have not seen results as good as the ones I'm getting with the DRX 9000 for low back pain and sciatica.
Santa Cruz, CA (PRWEB) July 20, 2010
Many Santa Cruz County residents suffering with back pain and sciatica or leg pain are flocking to the office of local chiropractor Dr. John Falkenroth, D.C. So far, over 400 residents have called Dr. Falkenroth's office to find out more information about the groundbreaking computer-guided treatments he uses. Some patients even drive over 5 hours, passing many chiropractors along the way, to get treated by Dr. Falkenroth.
Patients love that the treatments are safe, easy, non-surgical and effective. According to one patient, "I went to see five other doctors before finding Dr. Falkenroth, all with some results, but not with results that Dr. Falkenroth has given me. I am very happy that I found him when I did. He's very very good at what he does." Dr. Falkenroth combines hands-on treatments with high-tech treatments that are perhaps the greatest weapons ever invented against back pain and sciatica or leg pain.
One of the treatments Dr. Falkenroth uses is the DRX 9000 non-surgical spinal decompression therapy. According to Dr. Falkenroth, "After 11 years in practice, I have not seen results as good as the ones I'm getting with the DRX 9000 for low back pain and sciatica." Dr. Falkenroth decided to add the DRX 9000 to his treatment regimen after the DRX 9000 got positive reviews from doctors from Mayo Clinic, Johns Hopkins, Stanford and UCSF.
Dr. Falkenroth also employs the Pro-Adjuster computerized spinal joint analysis and treatment. The Pro-Adjuster uses a piezoelectric sensor to spot areas in the patient's back with abnormal joint motion. It then oscillates up to 12 impulses per second to gently free up the stuck spinal joint. Patients who are afraid of having a chiropractor twist and pop their necks and backs prefer the Pro-Adjuster. The Pro-Adjuster is especially preferred by patients who have neck pain from a recent whiplash or car accident. On some patients, Dr. Falkenroth still uses the manual adjustment.
The most popular therapy among patients is the AquaMassage. With this dry hydrotherapy, 36 warm water jets simulate fingertip massage, traveling up and down the back, massaging the patient's back and legs, relaxing their muscles, improving their circulation and decreasing their pain. The warm water jets pulsate from a relaxing 2 cycles/second to an invigorating 10 cycles/second. Thanks to a water barrier, the patient remains fully clothed and dry.
Dr. Falkenroth also scans his patients' feet digitally to detect any fallen arches. The scan is electronically transmitted to a Foot Levelers specialist, who will painstakingly analyze the scan and create custom-made Foot Levelers if requested. Foot Levelers are luxuriously comfortable custom-made shoe inserts that comfortably mold with the patient's feet and absorb shock with every step. A survey conducted by Northwestern Health Sciences University revealed that 82% out of 508 users felt that their Foot Levelers improved their condition.
After treating over 2,000 patients with back pain, sciatica, herniated disc, bulged disc, spinal stenosis, neck pain and whiplash, local chiropractor Dr. John Falkenroth, D.C., continue to deliver excellent results using groundbreaking high-tech treatments. To see these breakthrough treatments in action, simply go to the website http://www.repairmyback.com. Santa Cruz county residents can schedule a free consultation with Dr. Falkenroth by simply calling his office at (831) 475-8600.
About Dr. John Falkenroth, D.C.:
Dr. John Falkenroth, D.C. has been in practice in Santa Cruz county for over 11 years. After earning his Bachelor of Science degree in Physiology from UC Davis, Dr. Falkenroth attended Palmer College of Chiropractic where he graduated summa cum laude. His dedication to deliver results above and beyond his patients' expectations has earned him a loyal following. Dr. Falkenroth is also an avid runner and recently completed the Big Sur International Marathon.
Contact:
Claire Barton, Director of Public Relations
Dr. John Falkenroth, D.C.
(831) 475-8600
http://www.repairmyback.com
###