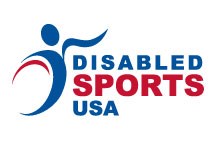 Rockville, Md. (PRWEB) October 08, 2013
Disabled Sports USA is proud to announce that it has received a $21,000 Quality of Life grant from the Christopher & Dana Reeve Foundation. The award was one of 74 grants totaling over $500,000 awarded by the Reeve Foundation to nonprofit organizations nationwide that provide more opportunities, access, and daily quality of life for individuals living with paralysis, their families, and caregivers. Created by the late Dana Reeve, the program has awarded 2,205 grants totaling nearly $17 million since 1999.
Disabled Sports USA will use the grant to provide severely wounded warriors ski passes so they can learn adaptive skiing and snowboarding at The Hartford Ski Spectacular December 2-8 in Breckenridge, Colo.
"We thank the Christopher & Dana Reeve Foundation for their support of the wounded warriors participating in The Hartford Ski Spectacular through our Warfighter Sports program," said Kirk Bauer, Executive Director of Disabled Sports USA and a disabled Vietnam veteran. "Wounded warriors need and deserve every opportunity to live full and active lives."
"It is the Reeve Foundation's esteemed pleasure to award Quality of Life grants that will help the paralysis community enhance their freedom and independence," said Niketa Sheth, Senior Vice President of Quality of Life of the Christopher & Dana Reeve Foundation. "We are thrilled to be able to align with organizations that believe in our mission and the ability for those living with paralysis to achieve fulfillment."
The Christopher & Dana Reeve Foundation Quality of Life grants program was conceived by the late Dana Reeve to address the myriad needs of children and adults with paralysis and other mobility impairments and their families. Grants support critical life-enhancing and life-changing initiatives that improve physical and emotional health and increase independence. Funded projects offer a diversity of services and approaches: improving access; providing education and job training; sponsoring organized sporting activities; and much more. Quality of Life grants are funded through a cooperative agreement with the Centers for Disease Control and Prevention (Award #U59DD000838).
About the Reeve Foundation
The Christopher & Dana Reeve Foundation is dedicated to curing spinal cord injury by funding innovative research and improving the quality of life for people living with paralysis through grants, information and advocacy. We meet all 20 of the Better Business Bureau's standards for charity accountability and hold the BBB's Charity Seal. The Paralysis Resource Center (PRC) is a program of the Reeve Foundation, and is funded through a cooperative agreement with the Centers for Disease Control and Prevention (CDC) Award No. U59DD000838. For more information, please visit our website at http://www.ChristopherReeve.org or call 800-539-7309.
About Warfighter Sports
Warfighter Sports, a program of Disabled Sports USA, offers sports rehabilitation for severely wounded warriors in military hospitals and communities across the U.S. through a nationwide network of over 100 community-based chapters. Since 1967, Disabled Sports USA has proudly served wounded warriors, including those injured in the Iraq and Afghanistan wars, offering over 30 winter and summer sports at more than 100 events each year. Warfighter Sports rebuilds lives through sports by improving self-confidence, promoting independence and uniting families through shared healthy activities.
Contributions cover all expenses for participation of the warrior and a family member, including individualized adaptive instruction, adaptive sports equipment, transportation, lodging and meals. Since 2003, more than 7,500 of the most severely wounded and their families have been served, including those with amputations, traumatic brain injury, spinal cord injury, visual impairments, and significant nerve and muscle damage. For more information, visit http://www.warfightersports.org.
About Disabled Sports USA
Founded in 1967, Disabled Sports USA is a charitable organization that provides opportunities for individuals with disabilities to develop independence, confidence and fitness through participation in sports. What began as a program to serve Vietnam veterans has since grown into one of the nation's largest multi-sport, multi-disability organizations, annually serving more than 60,000 wounded warriors, youth and adults with disabilities. A member of the U.S. Olympic Committee, Disabled Sports USA offers programs in more than 40 summer and winter sports through its nationwide network of more than 100 community-based chapters. For more information, visit http://www.disabledsportsusa.org.