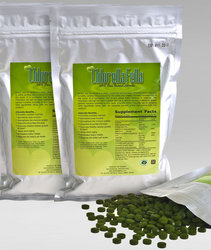 Chlorella Fella's Chlorella is the only supplement you will ever need for optimum health...
Taipei, Taiwan (PRWEB) September 29, 2010
The Chlorella Fella has officially put the health supplements industry on notice: They have finally released their range of products and it was definitely worth the wait. They boast absolutely no additives, binders or fillers go near their Chlorella. Just 100% pure broken cell Chlorella.
It's important to note, with Chlorella, you are getting a whole food supplement. Not only does it contain all the vitamins needed for optimum health, you are also getting natural enzymes, phytonutrients, antioxidants, chlorophyll, RNA/DNA and easy to digest complete protein.
Chlorella supports and strengthens the immune system. "Chlorella's main contribution to the body's natural defense system is it's beneficial supportive effects on so many of the organs and systems, especially the immune system." ~ Dr Bernard Jensen, D.O., Ph.D.
Detoxifies and purifies the body. Dr Liang-Pin Lin of the National Taiwan University said "... if you use Chlorella as a nutritional supplement, it will remove heavy metals such as lead, mercury and cadmium from the body."
Provides complete nutrition and normalizes body function. Chlorella contains all the essential nutrients needed for excellent health. It has all the requirements for a superior health food. (see attached analysis)
Promotes healthy growth and repair at a cellular level and slows aging. Chlorella contains high levels of healing and anti-aging factors including RNA and DNA. "When our RNA and DNA are in good repair and able to function most efficiently, our bodies get rid of toxins and avoid disease. Cells are able to repair themselves, and the energy level and vitality of the whole body is raised." ~ William H. Lee R. Ph., Ph D. & Michael Rosenbaum, M.D.
It's a fact that the body will heal itself if given high quality nutrition. Chlorella supplies our bodies with that nutrition and could very well be the most powerful food ever discovered.
As The Chlorella Fella added, "Our Chlorella has gone the health supplement industry one better. Where most companies in this market space provide inferior, lifeless supplements, our Chlorella products offer a whole food alternative, proven to contain health restoring properties, second-to-none.
Christine Vanlandingham of Memphis Tennessee had this to say about Chlorella Fella Chlorella...
"I have been battling with chronic inflammatory asthma and over toxification. I am a chemist and have recently been exposed to formaldehyde and acetaldehyde and developed a horrible asthmatic sensitivity to ALL fragrances (shampoo, soaps, moisturizers)!
My life was debilitating because I couldn't even go to a meeting for fear of someone wearing cologne. I have been using PCA-Rx to help detox but upon introduction of chlorella, the results have been amazing! My energy is great, my mood is much calmer, my asthma feels almost gone.
I have also started to adopt a more alkalizing diet so that's helping to balance out my body pH. I am going to continue to take Chlorella daily and will recommend this product to all friends and family!"
We have a limited time special on 2KG of our 100% pure chlorella products, go to http://www.ChlorellaFella.com/special now and also get Free worldwide express shipping to your door. (Comes in 8 stay-fresh aluminum pouches and has a shelf life of 3 years)
About Chlorella Fella: Chlorella Fella is a warm, friendly company. We are not some large cold corporation with customer service who never gets back to you. We are willing to communicate and help solve your problems. We have many great customers in countries all over the world. You are welcome to join us!
###