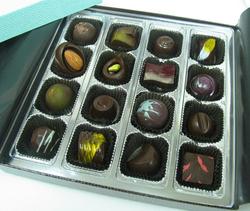 Usually, you expect a lot of orange products to be bitter, but this one is actually sweet
Schaumburg, IL (Vocus) April 20, 2010
Following on the heels of a successful premiere at the 52nd Annual GRAMMY® Awards, Sweet Endeavours showed an exclusive selection of chocolates at the 82nd Academy Awards on March 7, 2010. Being selected from a myriad of other vendors for both award shows has been a great honor for the owner Rieko Wada, a graduate of the French Pastry School.
The famous online chocolate retailer with a new brick-and-mortar presence (1101 Tower Road; Schaumburg; 224-653-2700) delivered excitement and joy with their eye-catching creations from decadent, all-natural ingredients. Rieko was kind enough to share the descriptions of the chocolate assortments that the stars received.
The 16-piece assortment includes the best selections from the Classic and Contempo Collections. The Classic Collection is a brilliant group of robust flavors, such as pear caramel liqueur, raspberry, passion fruit, Earl Grey tea and hazelnut gianduja. The Contempo Collection is an exclusive combination of inventive and delicious varieties, such as pink peppercorn, moka, banana flambé, port wine and curry kieffer lime.
Celebrities also sampled the 'White Gold' chocolates from Sweet Endeavours' Diamond Collection. This collection is part of the Chocouture line, where chocolate meets couture fashion. These rich chocolate pieces are adorned with a single sugar 'diamond' in the center. The Diamond Collection includes 'White Gold' (with champagne), '24K Gold' (with scotch) and 'Rose Gold' (with Grand Marnier®). Both the White Gold and Rose Gold Diamond Collections are hand-painted and the 24K Gold Diamond Collection is decorated with 24K gold leaves.
Finally, the Little Luxury Sampler was available, which includes matcha sesame bark, mini lux turtles, chocolate-dipped bacon and chocolate-dipped orange slices. These items are all favorites at Sweet Endeavours and Rieko states that the chocolate-dipped orange slices are very chewy and tangy. "Usually, you expect a lot of orange products to be bitter, but this one is actually sweet," she explains.
The matcha sesame bark is the perfect pairing of savory bitterness of matcha (green tea powder) with the creamy sweetness of white chocolate, while the chocolate-dipped bacon is a perfect compliment to full-bodied red wines and beer.
Wada celebrated her awards show premiere at her showroom in Schaumburg. Chocolatines' gifts were presented to patrons who could correctly predict the winners in five categories (Best Film, Best Actor/Actress and Best Supporting Actor/Actress) and all guests received sales discounts and a complimentary 5-piece assortment with each purchase.
Note to Media: Product samples and digital images are available upon request.
###