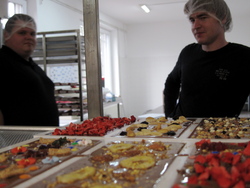 We could no longer continue to deny Americans the right to create their own chocolate bars!
Berlin, Germany (PRWEB) September 29, 2009
The German start-up company chocri took home the top prize at this year's Gründerpreis (or "Founders") Awards, held by the weekly German business news magazine WirtschaftsWoche. The WirtschaftsWoche holds the annual competition for innovative start-ups seeking to conquer the global market with their creative ideas and fresh use of technology.
One hundred applicants entered the contest, but it was chocri who took home the first prize: 300,000 Euros (or $440,000 USD) worth of services to help start-ups, including: consulting services, advice from a law firm, tips for finding investors, etc.
Founders Michael Bruck and Franz Duge won over the jury with their fun, unique concept of personalized chocolate bars. "Since chocri was launched, we always believed in developing a close relationship with our customers, who are the true creators of chocri; and so this award is not only a recognition of our hard work, but also the generous contribution of our early fans and supporters," says Franz Duge, co-founder of chocri. By constantly polling its customers for new ideas on toppings and flavors, chocri has established itself as a receptive, engaging brand that encourages its customers to be involved in the company's decision-making process and growth.
The idea behind the chocri chocolate bar is simple: consumers can choose their chocolate base (dark, milk, or white), and then select "toppings" of their choice to personalize their chocolate bar. Toppings include both the traditional (nuts and dried fruit) and the outrageous (coriander and chives)! Upon checkout, customers can even choose to create a personalized name for their chocolate bar (which will be inscribed on the package) as well as select their wrapping paper (colored, gift-wrapped, or holiday-themed, etc.).
In addition, chocri chocolates are all organic, and fair trade certified and 1% of all sales will be donated to a child welfare organization in the Ivory Coast (DIV Kinder). The young start-up, based in Berlin, has already sold 120,000 of its bars since launching last year, and declares its revenue to be in the mid-six digits.
With the mass customization market exploding across the U.S. retail industry (Nike, Ralph Lauren, and now Louis Vuitton are famous examples), the chocri founders have decided to share their chocolates with America, starting January 2010. "We could no longer continue to deny Americans the right to create their own chocolate bars!" quips chocri co-founder Michael Bruck.
For up-to-date information on chocri's American expansion, visit http://www.createmychocolate.com, or follow chocri on Twitter at http://www.twitter.com/chocridotcom. The German-language chocri website can be found at http://www.chocri.de.
For all media inquiries, email Termeh Mazhari at press(at)chocri.com, or call (646) 827-9594.
###