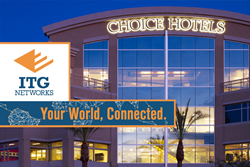 New build, conversion, and refresh hotels all stand to benefit from the outstanding technology solutions that ITG Networks provides as a Qualified Vendor
PITTSBURGH, PA (PRWEB) September 11, 2017
ITG Networks of Cranberry Township, PA is proud to announce its Qualified Vendor relationship with Choice Hotels International, Inc. (NYSE: CHH) - one of the world's largest hotel companies. This three-year agreement encompasses many aspects of sales, marketing, and support for ITG Network's turnkey systems and services.
Effective immediately, Choice franchisees and related management companies can contact ITG Networks to request information about turnkey network solutions. Available services include closed-circuit television (CCTV) systems featuring 360 degree property views from any device at any location, hospitality private branch exchange (PBX), and back-office support that meets the specific needs of a Choice brand property. At each stage of engagement, ITG Networks provides turnkey project management to streamline the effective assessment and installation of Choice's Network Solutions.
"We are excited to be able to offer our products and services to Choice Hotels," said ITG Networks CEO, John Spirnak. "ITG Networks strives to develop solutions that work together seamlessly while also focusing on ensuring a positive ROI for our customers. We believe that Choice Hotels and their franchisees will benefit from our focus on customer satisfaction and do 'Whatever it takes!' attitude. Being selected by Choice, which provides a spectrum of lodging options to meet travelers' needs, is a great affirmation for ITG Networks."
ITG Networks provides unique solutions that meet Choice's brand standards and surpass the expectations of guests to ensure positive guest experiences and prevent system downtime. As their relationship develops, ITG Networks looks forward to providing customized offerings to Choice brand hotels.
Says Rick Summa, vice president of procurement services for Choice Hotels International, "We really look forward to our brand hotels benefiting from the turnkey services that ITG Networks offers. Their packaged CCTV, phone, and support services are well reviewed and provide significant value to their growing list of customers. New build, conversion, and refresh hotels all stand to benefit from the outstanding technology solutions that ITG Networks provides as a Qualified Vendor."
As a Qualified Vendor for Choice Hotels, ITG will be working with their Networks Solutions Teams to be included in brand standards, listed in their bi-annual published Qualified Vendor Directory, and the Online Vendor Directory. Along with taking advantage of these opportunities ITG will participate in many other ways at Choice Hotels venues developing relationships within their design and build teams and with franchisees throughout the year.
About Choice Hotels
Choice Hotels International, Inc. (NYSE: CHH) is one of the world's largest hotel companies. With approximately 6,500 hotels franchised in more than 40 countries and territories, Choice Hotels International represents more than 500,000 rooms around the globe. As of June 30, 2017, 791 hotels were in their development pipeline. The company's Ascend Hotel Collection®, Cambria® Hotels, Comfort Inn®, Comfort Suites®, Sleep Inn®, Quality®, Clarion®, MainStay Suites®, Suburban Extended Stay Hotel®, Econo Lodge®, Rodeway Inn®, and Vacation Rentals by Choice Hotels® brands provide a spectrum of lodging choices to meet guests' needs. All hotels and vacation rentals are independently owned and operated. Additional corporate information may be found on the Choice Hotels International, Inc. website, which may be accessed at http://www.choicehotels.com.
About ITG Networks:
ITG Networks provides turn-key network solution installations by combining 24/7 end-user support with scalable network solutions. It delivers comprehensive and individualized solutions that provide WiFi with ROI, an application rich ecosystem based on robust, intelligent WiFi, coupled with a variety of applications enhancing the experience of the end user, ranging from smartphone apps to wireless statistics for business analytics, location-based services, network user identity and single sign-on. ITG has experience helping customers with rapid development and deployment of WiFi networks.
Property owners, managers, developers and hospitality companies rely on ITG for enhanced digital services for guest units, meeting rooms and public areas. It's "Whatever it takes!" motto and personal attention to service have earned ITG a reputation for providing efficient solutions that meet evolving customer demands. Headquartered in Cranberry Township, Pennsylvania, ITG Networks supports clients throughout the continental United States, including Alaska.