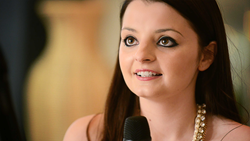 Among the many Hollywood notables that spoke with Per (Choices Recovery Founder) & AMP Radio's Chris Booker was rising star Dakota Hood, who has had roles in films including the recent "Hunger Games" series and TV spots in "Constantine" and "Redrum".
Hollywood, California (PRWEB) April 17, 2015
At the end of February 2015, Choices Recovery sponsored Durkin Entertainment's EcoLuxe Lounge and the "Salute to the Oscars" in the Stardust Penthouse on the rooftop of the luxurious Beverly Hilton Hotel, overlooking the impressive Los Angeles skyline. These events honoring the 2015 Oscar Award nominees were organized by Debbie Durkin, LA's leading producer of sustainable product placement in TV and film.
Showcasing many of the world's premier providers of eco-friendly and socially conscious products and services, the EcoLuxe Lounge saw many of today's contributors to the entertainment industry, who dropped by to learn more about the natural, holistic and ecologically sound goods and services featured there.
"We were honored to be a part of Debbie Durkin's EcoLuxe Lounge and the 'Salute to the Oscars' celebration," commented Choices Recovery founder Per Wickstrom. "We are grateful to have had the opportunity to speak with so many people, learning more about the problems of substance abuse in Hollywood and spreading the word about what the Choices Recovery program is all about: having holistic options in addiction treatment."
Hood was interviewed in February by Choices Recovery, located in South Bend, Indiana decided to speak publicly about substance abuse and the problems she has seen coming from it.
Among the many Hollywood notables that spoke with Per and AMP Radio's Chris Booker was rising star Dakota Hood, who has had roles in films including the recent "Hunger Games" series as well as TV spots in "Constantine" and "Redrum." Dakota, who is originally from North Carolina, spoke of the problems of addiction that she has seen since coming to LA. "I have (seen addiction in LA), and I've seen it in Raleigh, too," Dakota says. "Coming here and seeing all the homeless, I definitely see the downside of it, and I think what you guys are doing is great."
Choices Recovery just released the video footage of the Dakota Hood interview which can be found: