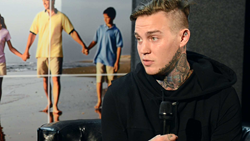 'I've never had an addiction, but my mother and father have and some of my best friends. I try to help them through it as much possible. I do my best to support them in any way that I can,' said Jared
Hollywood, California (PRWEB) April 22, 2015
On April 8th, 2015, at the legendary Avalon Hollywood, Choices Recovery had the honor of sponsoring Durkin Entertainment's "RockNRolla Movie Awards" EcoLuxe Lounge, a gathering of some of the world's top providers of ecologically sound and socially conscious products and services. Debbie Durkin, the leading producer of sustainable product placement in TV and film, is the organizer of the EcoLuxe Lounge, a premier red carpet event that makes appearances at several awards ceremonies and festivals throughout the year.
Many contributors to the Hollywood entertainment industry made an appearance at this daylong event, joining in the fun and informative showcase to learn more about the natural, organic and holistic goods and services showcased at the EcoLuxe Lounge. Choices Recovery had a Celebrity Interview Lounge set up inside the Avalon, where Chase Masterson hosted dozens of the event's attendees who were able to take a few moments to sit and discuss the issues surrounding addiction and treatment in today's society. Among them was musician and artist Jared Simms.
Jared's experiences with addiction in Hollywood:
Jared shared some of his own personal life experiences with addiction, and spoke about the importance of giving support to those going through the recovery process. "Addiction, is all around me, especially being in Hollywood," Jared told Chase. "I've never had an addiction, but my mother and father have and some of my best friends. I try to help them through it as much possible. I do my best to support them in any way that I can, give them the right contacts or guidance to get help. That's really all that I can do for them is to be a positive person in their life."
Other notable attendees at the EcoLuxe Lounge included: Alana Thompson aka Honey Boo Boo and Mama June Shannon (Here Comes Honey Boo Boo); Scheana Marie Shay, Tom Sandoval, Ariana Madix, Kristen Doute, James Kennedy, Tom Schwartz and Peter Madrigal (Vanderpump Rules); Jessica Hall (Kendra On Top); Octavius Johnson (Ray Donovan); Sabina Gadecki (Entourage The Movie); Scott Bailey (The Bay); Dexter Darden (The Maze Runner); Lexi Ainsworth (Emmy Nominee General Hospital); Ken Davitian (Borat); Monty Greer (MTV's Awkward); Barbara Alyn Woods (One Tree Hill) with daughters Natalie Alyn Lind (The Goldbergs), Alyvia Alyn Lind (The Young & The Restless) and Emily Alyn Lind (Revenge).
"As a provider of holistic treatment for addiction, our recovery center fits in quite well at the EcoLuxe Lounge," commented Choices Recovery founder Per Wickstrom. "We are grateful to have had another opportunity to work with Debbie Durkin to raise awareness about the problem of addiction that our society faces, and to inform people about the service that we offer, which is giving our patients what they need - Choices in treatment."
See the full video here: https://www.youtube.com/watch?v=fMMiigqpITs