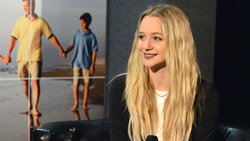 'Although I don't have an addiction, when you deal with somebody that has an addiction, it takes a toll on you and it does take a toll on how you choose to live your life. I saw what it was doing to them and I didn't want to live that life,' shared Mollee
Hollywood, California (PRWEB) April 28, 2015
At the famous Avalon Hollywood on April 8th, 2015, Choices Recovery Mishawaka was honored to have an opportunity to sponsor Durkin Entertainment's "RockNRolla Movie Awards" EcoLuxe Lounge, a gathering of some of the world's top providers of eco-friendly and socially conscious products and services. Organized by Debbie Durkin, the leading producer of sustainable product placement in TV and film, the EcoLuxe Lounge is a premier red carpet event that makes appearances at various awards ceremonies and festivals throughout the year.
"As a provider of holistic treatment for addiction, our recovery center fits in quite well at the EcoLuxe Lounge," commented Choices Recovery founder Per Wickstrom. "We are grateful to have had another opportunity to work with Debbie Durkin to raise awareness about the problem of addiction that our society faces, and to inform people about the service that we offer, which is giving our patients what they need - Choices in treatment."
TV and film star Chase Masterson hosted the Choices Recovery TV Lounge, holding impromptu interviews with many of the notable contributors to the entertainment industry that stopped in to the Avalon Hollywood that day.
Mollee Gray's experience seeing others go through addiction:
One of those attendees was Mollee Gray, who has starred in roles in High School Musical, No Strings Attached, and Teen Beach Movie among many others. She took some time to talk with Chase about the things that she has seen in her own life regarding addiction and recovery. "I actually grew up with family that has gone through addiction," she shared. "Although I don't have an addiction, when you deal with somebody that has an addiction, it takes a toll on you and it does take a toll on how you choose to live your life. I saw what it was doing to them and I didn't want to live that life."
A video of Mollee Gray's interview has been released on Choices Recovery's YouTube channel.
Other notable attendees at the EcoLuxe Lounge included: Scheana Marie Shay, Tom Sandoval, Ariana Madix, Kristen Doute, James Kennedy, Tom Schwartz and Peter Madrigal (Vanderpump Rules); Jessica Hall (Kendra On Top); Octavius Johnson (Ray Donovan); Sabina Gadecki (Entourage The Movie); Scott Bailey (The Bay); Dexter Darden (The Maze Runner); Lexi Ainsworth (Emmy Nominee General Hospital); Ken Davitian (Borat); Monty Greer (MTV's Awkward); Barbara Alyn Woods (One Tree Hill) with daughters Natalie Alyn Lind (The Goldbergs), Alyvia Alyn Lind (The Young & The Restless) and Emily Alyn Lind (Revenge), and many more.
See the full video here: https://www.youtube.com/watch?v=4Eb_L0-sFdc