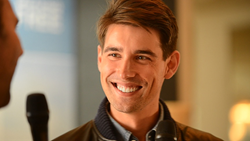 Nick Clifford, in his interview with Per Wickstrom and AMP Radio's Chris Booker, said that he thinks a lot of the problem of substance abuse has to do with those that one finds themselves associated with.
Hollywood, Calfornia (PRWEB) April 03, 2015
On February 21, 2015, Choices Recovery sponsored the EcoLuxe Lounge and the "Salute to the Oscars," organized by Debbie Durkin of Durkin Entertainment, the leading producer of sustainable product placement in TV and film. Held in the Stardust Penthouse on the rooftop of the luxurious Beverly Hilton Hotel, the EcoLuxe Lounge was a gathering of several of the world's premier providers of goods and services that are eco-friendly and socially conscious.
Many contributors to the entertainment industry stopped by the EcoLuxe lounge to enjoy the amazing view overlooking the dramatic Los Angeles skyline and to learn more about the ecologically sound products that were showcased there. One of the many notable attendees was Nick Clifford, an actor and director who is currently starring in a role on a VH1 program known as "Hindsight."
Drug Prevention in Hollywood
"It was always great to hear different perspectives on the problem of drug abuse and alcoholism and ways to avoid it," said Choices Recovery founder Per Wickstrom. "Nick's outlook on avoiding that dangerous path are wise words for anyone, whether they are struggling with addiction or not."
Nick Clifford, in his interview with Per Wickstrom and AMP Radio's Chris Booker, said that he thinks a lot of the problem of substance abuse has to do with those that one finds themselves associated with. "I think that it really is about the people that you surround yourself with," Nick tells Per. "I see people making tough choices and people making bad decisions. I think that you build a community around yourself of people that support you and your career and your life, and those people keep me healthy."
See full video here: https://www.youtube.com/watch?v=k0gCh6ao4os