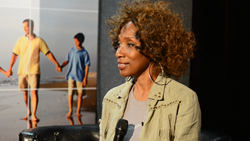 Terrah talked a bit about her work helping America's youth in overcoming adversity. 'What I try to teach is following dream and staying on path. I help them start developing their goals at a young age. It empowers them.'
Hollywood, California (PRWEB) May 06, 2015
On April 8th, 2015, at the famous Avalon Hollywood, Choices Recovery sponsored Durkin Entertainment's "RockNRolla" EcoLuxe Lounge, a gathering of some of the world's top providers of products and services that maintain ecologically sound and socially conscious ethics. Organized by Debbie Durkin, Los Angeles' leading producer of TV and film placement of sustainable products, the EcoLuxe Lunge is a premier red carpet event that makes appearances at various awards ceremonies and festivals throughout the year, such as the Emmys, the Oscars, Sundance and many others. The daylong event sees many of Hollywood's entertainment industry professionals dropping by to learn more about the eco-friendly, holistic and organic goods and services featured there.
"It was a pleasure to be able to work with Debbie Durkin again, promoting the healthy alternatives that are available to people for everyday use in their lives," said Choices Recovery, Mishawaka founder Per Wickstrom. "We would like to thank her for the opportunity to help raise awareness about the problem of dependency that our society faces today, and for the chance to inform people about the service that we offer, which is giving our patients the ability to make Choices in their recovery from addiction."
Chase Masterson joined Choices Recovery in hosting their Celebrity Interview Lounge, spending the day discussing addiction and rehabilitation with many of the guests that made appearances at the EcoLuxe Lounge. Among those guests who took a few moments to sit with Chase was writer and producer Terrah Bennett Smith, who has also had roles in General Hospital, Contradictions of the Heart and Flip the Script, among many others. She talked a bit about her work helping America's youth in overcoming adversity. "What I try to teach is following dream and staying on path," Terrah shares. "I help them start developing their goals at a young age. It empowers them. When you don't feel confident it sometimes makes you look outside for something to make you feel better." A video of Terrah's interview has been released on Choices Recovery's YouTube channel.
Other notable attendees at the EcoLuxe Lounge included: Scheana Marie Shay, Tom Sandoval, Ariana Madix, Kristen Doute, James Kennedy, Tom Schwartz and Peter Madrigal (Vanderpump Rules); Jessica Hall (Kendra On Top); Octavius Johnson (Ray Donovan); Sabina Gadecki (Entourage The Movie); Scott Bailey (The Bay); Dexter Darden (The Maze Runner); Lexi Ainsworth (Emmy Nominee General Hospital); Ken Davitian (Borat); Monty Greer (MTV's Awkward); Barbara Alyn Woods (One Tree Hill) with daughters Natalie Alyn Lind (The Goldbergs), Alyvia Alyn Lind (The Young & The Restless) and Emily Alyn Lind (Revenge).
See this link for the full video interview: https://www.youtube.com/watch?v=K5BnuHVW-jg