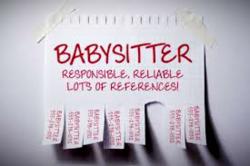 Hiring the right babysitter is very important, but following some common sense steps to finding one is even more important.
Washington, DC (PRWEB) February 11, 2013
A babysitter can be an invaluable asset to many families. He or she provides working parents with peace of mind during the day, and a babysitter can also allow mom and dad the freedom to enjoy time away from home during the evenings and weekends. Despite the great advantages to having a trusted babysitter, it can be a challenge for some parents to trust a stranger to care for their children. Finding a babysitter doesn't have to be an experience filled with stress and worry. While many home automation security systems and DIY security systems, including nanny cams, may offer parents some peace of mind, there's no greater comfort than knowing that sitter can be trusted with all aspects of a child's safety and security. Even the best home security system can't rival the comfort of having a trusted individual caring for children.
In fact, according to the safety and security experts at SecuritySystemReviews.com, there are steps parents can take when hiring a sitter to keep their children and home safe. SecuritySystemReviews.com is a site offering reviews and price comparisons of the cheapest home security systems, including Vivint pricing and ADT pricing.
1. Conduct an in-depth background check prior to having anyone come into the home. While it may seem a bit overboard, there are really no precautions that should be avoided when it comes to finding a sitter. Many parents may rely on a simple Google search, but instead should opt for hiring a well-known company to do the screening, to make sure no red flags are missed in the process.
2. Talk to at least 3 childcare references, and more if possible. All too often, parents become busy or simply trust a sitter based on a face-to-face meeting, but childcare reference are very important to the screening process.
3. There are a number of childcare sites that match sitters with families, and they often provide some background information on the sitter's profile, but it may be best for a family to use personal references from friends, neighbors and family members to find a sitter that can be trusted. This often makes parents feel more comfortable than finding a stranger from a website.
4. Prepare for the face-to-face interview and ask the right questions. While this is a great time to use instincts to evaluate the potential sitter, it's also important to have questions outlined ahead of time, including what would the sitter do in an emergency situation, questions about previous childcare experience and whether or not the sitter has important certifications, such as CPR.
5. Conduct a trial sitting session. Rather than simply hiring a sitter and running out the door, it's a good idea to have the sitter come at least once while a parent will be home. This is a good time to let children get accustomed to the new sitter, and keep an eye on how the sitter interacts with the children.
About the Company
SecuritySystemReviews.com is a site offering comprehensive, unbiased reviews and comparisons of top security system companies and equipment. Reviews are provided by top security experts in the field, and the site is a resource for consumers considering the purchase of a home security system.