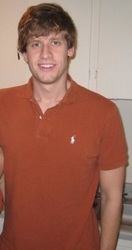 We're thrilled that Adam has joined us full-time
Austin, TX (Vocus) May 17, 2010
ChooseWhat.com, an online resource with review and comparison information of fax to email services, virtual PBX services and several other resources for small business owners and entrepreneurs, is pleased to welcome Research Analyst Adam Malden to its product research team. Malden holds a degree in Consulting and Risk Management from the University of Texas at Austin's Red McCombs School of Business.
"We're thrilled that Adam has joined us full-time," says Leo Welder, co-founder of Zilker Ventures and ChooseWhat.com. "We believe he'll contribute substantially to the success and growth of our resource website and bolster our product research efforts to improve the accuracy of our reviews."
Prior to being hired as a full-time employee, Mr. Malden, interned at Zilker Ventures, working primarily on ChooseWhat.com, and helped create and manage databases with product review information. Currently, he is working on testing and reviewing business card printing services for Business-Cards.ChooseWhat.com. He is also tasked with managing the new and improved ChooseWhat Labs wherein researchers will fully test, review and rate tools and services relevant to small business owners and entrepreneurs.
Business-Cards.ChooseWhat.com features reviews and comparison data for the leading online business card printing companies. According to the website, online business card printing companies offer the cheapest, easiest and quickest way to get quality business cards. Part of Mr. Malden's responsibilities is to create the rating criteria for features like Card Quality and Ease of Using the Design Tool, so that the products are rated fairly and the reviews accurately reflect the pros and cons of ordering business cards online. The companies reviewed on the site so far include Moo, Vista Print, Uprinting, iPrint, GreatFX and Andreoni.
In addition to business card reviews, Mr. Malden will be testing and reviewing other product categories relevant to small business owners, such as fax to email services and email marketing services. As ChooseWhat.com expands and rolls out new product reviews of exponentially more product categories, Mr. Malden will perform quality control on all product tests and ensure that review processes meet ChooseWhat's goals: 1) to accurately present the results of product tests and analyses and 2) to provide visitors with enough information to make an educated buying decision in a reasonable amount of time.
"Working on ChooseWhat.com has been really invigorating," says Malden. "I'm proud to be a part of the team, whose dedication to accuracy and genuine interest in the specific needs of small business owners makes it a daily pleasure to do business."
For more information on ChooseWhat.com and to read reviews of small business services, such as virtual phone numbers, online fax services and business card printing services, please visit http://www.choosewhat.com.
###