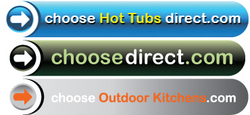 We are thrilled to be bringing this innovation to our sites
San Francisco, CA (Vocus) December 12, 2009
ChooseDirect is always looking to expand its offerings. On its sites, including ChooseHotTubsDirect.com, ChooseOutdoorKitchens.com and ChooseFireplacesandStoves.com, and at its San Francisco headquarters, new and exciting ideas brew every day. First, the company built its own Search Engine Optimization (SEO) think tank, then it created information centers to give consumers all the news they need to make wise decisions about their purchases. Now, ChooseDirect plans to outdo its competitors in offering a three-dimensional design tool for customers to view how their ChooseDirect purchase will appear in their living areas.
Imagine this: a customer wants a Jacuzzi like hot tub, but isn't sure it's going to fit where she wants it or whether or not it will look good where it does fit. What's a buyer to do? Hope it works out? Not at ChooseHotTubsDirect.com – at least not in the near future. Rather, this person will be able to upload a photograph of the living space in which the hot tub will reside. Then she will drop the hot tub into place online. Instantly, she envisions its placement, its looks and, as an added bonus, its luxury.
The same thing will occur at ChooseFireplacesandStoves.com, only with fireplaces, stoves and fireplace inserts. Here, the customer will be able to not only configure the space ratio needed, but also picture options available, such as doors, louvres and the like, saving him the problem of deciding how to equip his fireplace.
At ChooseOutdoorKitchens.com, buyers will also enjoy visualizing how an outdoor kitchen, barbeque grill or other item it retails will appear in their living spaces.
"We are thrilled to be bringing this innovation to our sites," says Steve Barbarich, CEO of ChooseDirect. "I had my own nightmare experience of buying a hot tub that didn't fit in my living area once, and have since made it my goal to ensure such a problem never exists with a ChooseDirect product. With this new tool, mistakes will be minimized – if not completely eradicated."
Google SketchUp is a CAD system made especially for architects, civil engineers, filmmakers and other design professionals. Though it has become more user-friendly with its 7th edition, the program nevertheless can be cumbersome for many laypeople wanting to use its design capabilities. ChooseHotTubsDirect.com and ChooseOutdoorKitchens.com utilize SketchUp already, but the sales results could be better. Although a client can rotate a hot tub in 3D in SketchUp and then, using Google Earth, place it in a virtual home environment, SketchUp lacks the photographic element and personalized feel of ChooseDirect's up-and-coming technology. The new design tool in the works at ChooseDirect takes out many of the confusing variables of SketchUp, instead making it as simple as uploading a photo and placing an object in it. Doing this will thus make the purchase of a high-end item ChooseDirect sells much more inviting and comfortable.
As its team of computer designers works on this brand new technology, ChooseDirect rests assured it will be the first e-commerce site to offer such a complete and valuable 3D tool.
About ChooseDirect.com:
ChooseDirect.com brings the world high quality products at factory direct pricing. Since this e-commerce online retailer is involved with the product all the way down to the factory level, it cuts out many middlemen from the process and is able to offer better prices than the competitors. With advanced factory coordination, ChooseFireplacesandStoves.com provides all its customers with highly customized premium fireplaces, stoves, or fireplace inserts and more at discount prices they can afford. Choose HotTubsDirect.com prides itself in having a large selection of hot tubs. ChooseOutdoorKitchens.com, an online retailer of outdoor kitchens, built in grills, drop in grill islands and many other outdoor kitchen products, also follows the ChooseDirect.com business model and leads the outdoor kitchen industry with high quality products, great customer service, detailed product facts and outdoor kitchen industry information.
CONTACT:
Diana Slampyak, Director of Community Outreach
ChooseDirect
767 Bryant St., Suite 201
San Francisco, CA 94107
415-618-0681
###