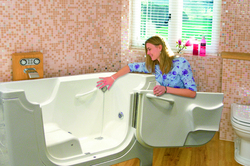 Valley Stream, NY (Vocus) April 1, 2010
Selecting a walk in bath tub is a simple, but most likely very new experience for many. There are a number of walk-in bathtub designs, models and features. A walkin bath tub is an item that will last a lifetime. It is important to find the walk-in tub that best fits a household's needs and wants.
One of the first things to consider when selecting a walk-in bathtub is the quality of the tub. Many distributors of tubs are selling imported walk in bath tubs. While purchasing an imported tub may be less costly initially, often times one may incur more cost due to poor quality standards. Foreign walk in bathtubs often do not meet North American plumbing, electrical, and quality standards. In addition, when and if one is in need of repairs for an imported walk in bathtub, parts or components are often difficult or costly to get.
Once a homeowner has ensured that the company and walk in bath tub they are working with is of good quality and meets the North American Plumbing (IAPMO) and electric (ETL) standards, they are now ready to select their particular unit. Walk in bathtubs vary in size and models. The homeowner must consider the space they have available and the dimensions of different walk in bathtubs. If they are limited in space it is best to consider some of the special sized walk in bathtubs. They may also want to consider their own body frame to find a walkin tub that they will fit in comfortably.
Walk-in tubs also include a number of different and exciting features to choose from. The benefits of hydrotherapy go way beyond relaxation and comfort, but also help with arthritis, blood circulation, muscle and joint aches etc. Other forms of therapy offered with walk in tubs include chromotherapy (color light therapy) and aroma therapy which provide other countless therapeutic benefits and stimulation.
Once a homeowner has selected the quality, fit and features of their walk–in tub, cost of course, is a factor. Walk in tubs are an investment, but not one that needs to put a major dent your pocket. Avoid overpriced companies with poor quality walkin tubs. Look for an American made tub which offers reasonable prices as well as warranties and guarantees on their items.
Choosing a walk in bath tub is an exciting experience. One will enjoy its benefits forever. Take your time and do it right.
###