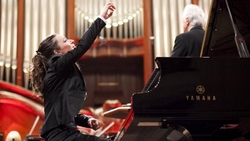 Buena Park, Calif. (Vocus) October 21, 2010
Yulianna Avdeeva, performing on a Yamaha CFX concert grand piano, was awarded the First Prize in the finals of the 16th Frederic Chopin International Piano Competition, in Warsaw, Poland, on October 20, 2010.
Avdeeva's victory marked the latest milestone in the short but distinguished history of the new handcrafted concert grand piano. Earlier this year, Yamaha Artist Claire Huangci won the Eighth National Chopin Piano Competition in Miami, playing the CFX. This strong American debut for the new piano model followed the First Prize win performed by artist Cho Seung-jin at 2009's Hamamatsu International Piano Competition, also on a CFX.
''This win continues the CFX's 'perfect record' in battle thus far,'' said Paul Calvin, Vice President and General Manager, Keyboard Division, Yamaha Corporation of America. "The piano's powerful sound projection, balanced with its singing legato, delicate pianissimos and rich palette of tonal colors, enable artists to create performances of unmatched beauty and individuality. This result confirms our belief that the CFX stands on its own as the best piano in the world."
Introduced in January 2010 in the United States, the 9' CFX concert grand is Yamaha's flagship model and incorporates the sum total of Yamaha's piano manufacturing expertise and technology and replaces the acclaimed CFIIIS concert grand piano.
''In addition to drawing on its 108-year heritage of manufacturing the world's finest pianos, the instrument represents 19 years of research and development conducted by Yamaha craftsmen, designers and engineers, to create this extraordinary handcrafted piano,'' explains Mark Anderson, Marketing Director, Yamaha Keyboard Division. ''The process culminated with a series of top-secret, in-depth evaluation sessions conducted in New York, Paris and Tokyo with top artists and Yamaha artist services over the last few years.''
According to Yamaha Corporation of America Senior Vice President Rick Young, ''With its outstanding expressiveness and power, the CFX is quickly establishing a reputation for serving the needs of the most discriminating performing artists. Yamaha is thrilled to see the CFX continue to have such a profound impact upon the competition stage. We congratulate Yulianna Avdeeva on her much-deserved triumph.''
The renowned Chopin Competition, first held in 1927, has subsequently been held every five years, with the exception of a period during World War II. The competition is dedicated to the great composer and pianist Frederic Chopin, who was born and raised in Poland, and remains one of the most prestigious piano competitions in the world. The Chopin Competition has become known as a gateway to success and has produced many of the world's great pianists, including Krystian Zimerman and Martha Argerich. Argerich was included in this year's jury panel.
This year, the Chopin Competition coincided with a celebration of the 200th anniversary of Chopin's birth. Held September 30th through October 23rd, 2010, at Warsaw Philharmonic Concert Hall, a total of 78 pianists participated, performing on instruments of four piano manufacturers, including Yamaha. The competition is held in four stages: 10 of the pianists selected in the first three stages go on to compete in the fourth and final stage. This time, four of the finalists performed on the CFX and Ms. Avdeeva won First Prize and the special Chopin Sonata Prize with her brilliant and particularly insightful performances. Yamaha has served as an official provider of pianos for the Chopin Competition since 1985.
Results of the 16th Frederic Chopin International Piano Competition: First prize: Ms. Yulianna Avdeeva; Second prize: Mr. Lukas Geniušas; Second prize: Mr. Ingolf Wunder; Third prize: Mr. Daniil Trifonov; Fourth prize: Mr. Evgeni Bozhanov (also on a CFX grand); Fifth prize: Mr. François Dumont; Sixth prize: not awarded.
About Grand Prize Winner Yulianna Avdeeva
Ms. Avdeeva was born in Moscow, Russia, on July 3, 1985. In 1990, she began piano lessons at the Gnessin School of Music in Moscow under Elena Ivanova and is currently a student of Professor Vladimir Tropp at the Gnessin Russian Academy of Music. At the same time, she is furthering her training at the Hochschule für Musik und Theater in Zurich, where since October 2006, she has been assistant to Professor Konstantin Scherbakov.
Thus far, Ms. Avdeeva has won prizes in many piano competitions around the world, including the Geneva International Music Competition in 2006. She has appeared in prestigious concert halls in Moscow and also performed in many other cities in Russia and over 20 other countries, including Austria, the United Kingdom, the United States, France, Germany, Israel, Belgium, Japan, Greece, Italy and the Republic of South Africa. The venues for her performances have included such famous halls as the Bösendorfer-Saal in Vienna and the Barbican Centre in London.
For more information, write Yamaha Corporation of America, P.O. Box 6600, Buena Park, CA 90622; telephone (714) 522-9011; e-mail infostation(at)yamaha(dot)com; or visit http://www.yamaha.com/press .
About Yamaha
Yamaha Corporation of America is the largest subsidiary of Yamaha Corporation, Japan and offers a full line of musical instruments and sound reinforcement products to the U.S. market. Products include: acoustic and digital pianos, portable keyboards, guitars, acoustic and electronic drums, band and orchestral instruments, marching percussion products, synthesizers, professional digital and analog audio products, and innovative technology products targeted to the hobbyist, education, worship, professional music, and installation markets.
###