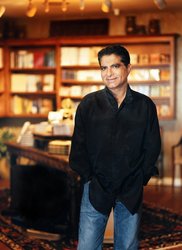 The world and its demands are only going to get more intense
Carlsbad, California (PRWEB) February 4, 2008
The Chopra Center for Wellbeing will present its signature program Soul of Healing this March 17-21 at La Costa Resort & Spa in Carlsbad, California. Limited to an intimate group of only 40 guests, Soul of Healing is designed and led by mind-body pioneers Deepak Chopra, M.D. and David Simon, M.D. for those seeking to manage stress, heal physical and emotional pain, and take their well-being to a higher level.
At Soul of Healing, Deepak Chopra and David Simon will guide participants in a five-day immersion program that integrates the healing arts of the East with modern Western medicine. In addition to a one-on-one mind-body consultation with a member of Dr. Simon's medical staff, guests will learn practical tools and techniques that they can immediately use in their daily life, including Primordial Sound Meditation, Chopra Center yoga, stress management and living in balance.
"The world and its demands are only going to get more intense," said Dr. Simon. "To survive and thrive in a rapidly changing environment, we need flexibility, balance and strength. Those who join us at Soul of Healing will learn how to cultivate the qualities that allow us to stay healthy and have greater peace of mind."
Each day at Soul of Healing, guests will experience Ayurvedic massage treatments. For the first time, the program will include the rejuvenating treatment known as Rasayana -- a powerful Ayurvedic therapy that releases physical toxins and emotional stress.
"We have expanded Soul of Healing to include daily Rasayana massage treatments," said Dr. Chopra. "This process clears the toxins that build up in the body and contribute to illness and accelerated aging. For thousands of years, Rasayana has been used to revitalize the body, calm the mind and restore vitality."
For more information, please call 888.736.6895 or visit http://www.chopra.com/soul.
The Chopra Center for Wellbeing was founded by Deepak Chopra, M.D. and David Simon, M.D. in 1996. The philosophy of the Center is based upon the principles and practices of holistic and alternative medicine from around the world. The Chopra Center is the global source for yoga, meditation and Ayurveda.
Dr. Deepak Chopra is chairman and co-founder of the Chopra Center for Wellbeing and a best-selling author who has written more than 50 books. He is acknowledged as one of the world's greatest leaders in the field of mind-body medicine. Through the Chopra Center, Dr. Chopra is revolutionizing common wisdom about the crucial connection between body, mind, spirit and healing. His mission of "bridging the technological miracles of the West with the wisdom of the East" remains his thrust as he and his colleagues conduct public seminars and workshops and provide training for health care professionals around the world.
Dr. David Simon is the CEO, medical director and co-founder of the Chopra Center for Wellbeing -- as well as a board certified neurologist and a pioneer in the fusion of Western medicine and the healing arts of the East. Dr. Simon is the recipient of a National Institutes of Health grant to study mind-body approaches to health, and has created initiatives to bring holistic health-care programs to medical institutions, community health centers and health resorts. In addition, he is a best-selling author whose recent books include The Ten Commitments: Translating Good Intentions into Good Choices and Vital Energy: The 7 Keys to Invigorate Body, Mind, and Soul. His latest book is Freedom from Addiction, co-authored with Dr. Deepak Chopra.
Media Contact:
David Greenspan
(760) 494-1610
http://www.chopra.com/soul
###