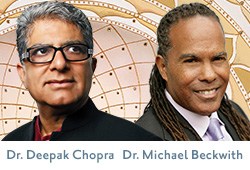 Spiritual Solutions is about moving from constricted states of awareness to expanded states of awareness, where new possibilities and solutions spontaneously emerge," said Deepak Chopra.
Carlsbad, California (PRWEB) July 24, 2013
This October 3−6, 2013, the Chopra Center for Wellbeing will offer Spiritual Solutions, a special 3-day workshop led by Chopra Center co-founder Dr. Deepak Chopra and Reverend Michael Bernard Beckwith, founder of Agape International Spiritual Center. Spiritual Solutions is a one-time event offering participants a rare opportunity to be inspired and learn with two of the world's most renowned thought leaders and teachers in a unique interactive setting.
At Spiritual Solutions, Deepak Chopra and Michael Beckwith will teach foundational principles of spiritual living and tools for transforming obstacles into opportunities. Each day, participants will have an opportunity to have their questions about personal growth, relationships, success and fulfillment, and health and wellbeing answered by Dr. Chopra, who will share practices for expanding awareness, letting go of the habits that keep us stuck, and opening to new, creative possibilities.
"There is no greater power for success and personal growth than your own awareness. Spiritual Solutions is about moving from constricted states of awareness to expanded states of awareness, where we see new possibilities and solutions spontaneously emerge," said Deepak Chopra.
"As Albert Einstein once said, 'No problem can ever be solved at the level of awareness at which it was created.' At the Spiritual Solutions workshop, we will focus on moving to higher levels of awareness, joy, and fulfillment in all the areas of our lives," Dr. Chopra said.
The Chopra Center's Spiritual Solutions workshop is an all-inclusive event that includes:

Three nights' hotel accommodations at the luxurious Omni La Costa Resort & Spa.
Instruction in Primordial Sound Meditation
Morning and evening Seven Spiritual Laws of Yoga classes
Two delicious Ayurvedic lunches: Friday and Saturday.
Three Ayurvedic dinners: Thursday, Friday, and Saturday.
Workshop tuition.
Early bird pricing is available only until July 31. For more information, call 888.736.6895, or learn more and register here.
About the Chopra Center for Wellbeing
The Chopra Center for Wellbeing was founded by Deepak Chopra, M.D. and David Simon, M.D. in 1996. Located in Carlsbad, California, the Center offers a wide variety of programs, retreats, and teacher training programs that integrate the healing arts of the East with the best in modern Western medicine. The Chopra Center has helped millions of people around the world find peace of mind, physical balance, and emotional healing. The website http://www.chopra.com is your starting point on the path to wellness.
About Deepak Chopra, M.D., F.A.C.P.
Founder of the Chopra Center for Wellbeing
Deepak Chopra, M.D. is the author of more than 65 books, including numerous New York Times bestsellers. His medical training is in internal medicine and endocrinology, and he is a Fellow of the American College of Physicians, a member of the American Association of Clinical Endocrinologists, and an adjunct professor of Executive Programs at the Kellogg School of Management at Northwestern University. He is also a Distinguished Executive Scholar at Columbia Business School, Columbia University, and a Senior Scientist at the Gallup organization. For more than a decade, he has participated as a lecturer at the Update in Internal Medicine, an annual event sponsored by Harvard Medical School's Department of Continuing Education and the Department of Medicine, Beth Israel Deaconess Medical Center.
About Michael Bernard Beckwith
Reverend Michael Bernard Beckwith is known to millions as a featured teacher in the megahit book and film The Secret, which has sold over 14 million copies worldwide, and as a popular guest on Oprah, CBS Eye to Eye with Katie Couric, Larry King Live, and Tavis Smiley. Beckwith is a spiritual philosopher, speaker, and author whose book Spiritual Liberation received a Gold Nautilus Book Award. He founded the Agape International Spiritual Center in the Los Angeles area in 1986, one of the largest non-denominational spiritual communities in the nation. At the Spiritual Solutions workshop, Dr. Beckwith will present his "Life Visioning" course.
Media Contact:
Kathy Bankerd
(760) 494-1609