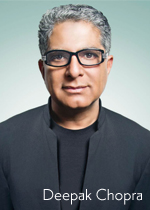 There is a crucial link between our physical and emotional health – and our ability to engage in work in the most productive, effective, and beneficial ways, said Deepak Chopra.
Carlsbad, California (PRWEB) September 19, 2012
As companies everywhere struggle with rising health care costs, increasing burnout, and shrinking bottom lines, the world-renowned wellness center founded by Deepak Chopra, M.D. has launched Workplace Wellbeing – offering individually tailored programs to teach businesses and other groups practical tools and techniques for cultivating optimal health, managing stress effectively, restoring work-life balance, and experiencing greater levels of creativity, engagement, and success.
"Since the Chopra Center was founded in 1996, a growing number of executives, leaders, and business owners have been coming to us seeking specialized group programs for themselves and for their employees. They recognize the crucial link between our physical and emotional health – and our ability to engage in work in the most productive, effective, and beneficial ways," said Deepak Chopra.
"Wellbeing has become the number one global trend, and as a senior scientist at the Gallup Organization, I have seen the data showing how wellbeing correlates with economics. There are huge implications for how an employee's wellbeing affects the bottom line of a company. What we've begun to find is that the economic implications are not only in the billions but probably in the trillions," Dr. Chopra said.
The Chopra Center's Workplace Wellbeing programs are individually tailored for companies and businesses of all sizes and are offered at the Chopra Center's location at La Costa Resort and Spa in Carlsbad, California.
"The Workplace Wellbeing programs integrate all aspects of mind and body health, with the ultimate goal of work-life balance," says Sara Harvey, chief operating officer of Chopra Center. "The technologically advanced meeting facilities of La Costa combined with the beautiful grounds of the resort is the perfect setting in which to practice these skills."
Taught by the Chopra Center's master certified educators, the Workplace Wellbeing programs integrates timeless wisdom and practical applications for wellbeing with the most recent discoveries and insights from the most relevant fields, including business, psychology, neuroscience, health and medicine. Workplace Wellbeing focuses on these core areas:

Inspired Leadership – Unleash the potential for creativity, team collaboration, and focused intention.
Stress Management – Find calm even in the midst of chaos with meditation and other mindfulness practices that are easy to learn and easy to use.
Move & Energize – Invigorate your body and mind with chair yoga and other physical activities you can weave throughout your day.
Work-life Balance – Identify your unique mind-body type and learn specific daily lifestyle tools to balance your own natural tendencies and restore wellbeing in your life.
Conscious Communication – Enhance skills for relationship building and conflict resolution at work and home.
Nutrition – Stay balanced, energized, and healthy in a fast-paced environment using simple, mindful eating habits.
Groups can choose from the above programs for 90-minute, half-day, full-day or multi-day teachings. In addition, yoga, meditation, massage and medical consultations can be included as optional add-ons to any curriculum. According to a variety of published studies on workplace wellness, the average return on investment is $3.48:1 due to reduced medical costs, and $5.82:1 due to reduced absenteeism.
"True, long-term success begins with shifting to a focus on total wellbeing and wholeness," said Deepak Chopra. "Once people begin participating in a healthy, balanced lifestyle, exercising, spending time in nature, meditating, practicing yoga, eating well, using the tools of conscious communication, they suddenly feel quite good. Wellbeing is actually addictive, but it's a healthy addiction that benefits individuals, companies, the community, and the world."
For more information on the Chopra Center Workplace Wellbeing programs or to make reservations, please call the Chopra Center at 888-736-6895 or visit http://www.chopra.com/workwell.
For press inquiries and images, please contact:
Kathy Bankerd
Chopra Center Marketing Director
(760) 494-1609
http://www.chopra.com
# # #
About the Chopra Center for Wellbeing
The Chopra Center for Wellbeing was founded by Deepak Chopra, M.D. and David Simon, M.D. in 1996. Located in Carlsbad, California, the Center offers a wide variety of programs, retreats, and teacher training certification programs that integrate the healing arts of the East with the best in modern Western medicine. The Chopra Center has helped millions of people around the world find peace of mind, physical balance, and emotional healing. The website http://www.chopra.com is your starting point on the path to wellbeing.
About Deepak Chopra, M.D., F.A.C.P.
Founder of the Chopra Center for Wellbeing
Deepak Chopra, M.D. is the author of more than sixty-five books, including numerous New York Times bestsellers. His medical training is in internal medicine and endocrinology, and he is a Fellow of the American College of Physicians, a member of the American Association of Clinical Endocrinologists, and an adjunct professor of Executive Programs at the Kellogg School of Management at Northwestern University. He is also a Distinguished Executive Scholar at Columbia Business School, Columbia University, and a Senior Scientist at the Gallup organization. For more than a decade, he has participated as a lecturer at the Update in Internal Medicine, an annual event sponsored by Harvard Medical School's Department of Continuing Education and the Department of Medicine, Beth Israel Deaconess Medical Center.
About La Costa Resort and Spa
Fresh from a $50 million renovation and nestled among the beautiful coastal foothills of Carlsbad, Calif., La Costa Resort and Spa boasts a new look with no part of the resort untouched. California's original destination for Mind, Body + Sport, La Costa's redesigned areas include 611 newly imagined guestrooms and suites, an adult-only pool venue, the Coastal Events Center featuring 110,000 square feet of meeting and event space, an expanded Athletic Club as well as two golf courses, including the all-new Champions Course, recognized by Golf magazine as "Southern California's Only Gold Medal Golf Resort." Honored as the #1 Wellness Spa in the Nation by Spa magazine, the 43,000-square-foot Spa at La Costa includes a private pool, café and therapeutic reflexology path. Acclaimed restaurants – Legends Bistro and BlueFire Grill – present an updated take on locally inspired cuisine and culinary delights prepared by Chef Gregory Frey, Jr. For more information on La Costa, call (800) 854-5000 or visit http://www.lacosta.com.