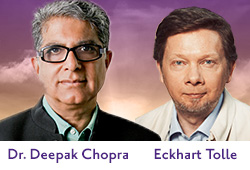 Deepak Chopra and Eckhart Tolle offer timeless wisdom for finding your purpose, staying centered in the face of uncertainty, and letting go of unhealthy fear and stress.
Carlsbad, California (PRWEB) April 16, 2013
This April 24, 2013, at 7:30 p.m. the Chopra Center for Wellbeing will present "A Conversation with Deepak Chopra and Eckhart Tolle." This live web-streamed event offers viewers around the world an opportunity to participate in a conversation with two of the world's most renowned spiritual teachers and authors as they explore life's biggest questions, such as finding our purpose, staying centered in the face of uncertainty, letting go of unhealthy fear and stress, and cultivating more joy, creativity, compassion, and wellbeing.
Register for the live streaming event with Deepak Chopra and Eckhart Tolle here.
"Through his books and teachings, Eckhart Tolle has helped countless people throughout the world move through fear and pain, connect to their true self, and experience the peace of present moment awareness. I'm looking forward to sharing a wonderful conversation and exploration with Eckhart, and those who join us will get to personally experience his insight, light-hearted spirit, and inspiring guidance," said Chopra Center co-founder, Dr. Deepak Chopra.
The evening event with Deepak Chopra and Eckhart Tolle is part of the Chopra Center's Seduction of Spirit retreat taking place April 21–27 at La Costa Resort & Spa in Carlsbad, California, and is the only portion of the retreat that will be open for public viewing and interaction. During a special Q&A session, participants will have the chance to ask Deepak Chopra and Eckhart Tolle, via email and Facebook, their deepest questions about consciousness, spiritual awakening, and transformation from the inside out.
Seats for both "Seduction of Spirit" and "A Conversation with Deepak Chopra and Eckhart Tolle" have sold out; however registration for the live streaming of the April 24th evening event is open.
For more information or to register for A Conversation with Deepak Chopra and Eckhart Tolle, call 888.736.6895, or click here.
About Deepak Chopra, M.D., F.A.C.P.
Deepak Chopra is the founder of the Chopra Center for Wellbeing and the author of more than 65 books, including numerous New York Times bestsellers. His medical training is in internal medicine and endocrinology, and he is a Fellow of the American College of Physicians, a member of the American Association of Clinical Endocrinologists, and an adjunct professor of Executive Programs at the Kellogg School of Management at Northwestern University. He is also a Distinguished Executive Scholar at Columbia Business School, Columbia University, and a Senior Scientist at the Gallup organization. For more than a decade, he has participated as a lecturer at the Update in Internal Medicine, an annual event sponsored by Harvard Medical School's Department of Continuing Education and the Department of Medicine, Beth Israel Deaconess Medical Center.
"Deepak Chopra has successfully blended ancient Vedanta Philosophy with his unique perspective on modern medicine to provide a vast audience with solutions that meet many needs for our modern age. He is among the influential scholars, authors, and thinkers like Arthur Schopenhauer, Carl Jung, and Aldous Huxley who have found truth in the Perennial Philosophy and developed ways to help people apply that truth to their daily lives." ~Huston Smith
About Eckhart Tolle
Eckhart Tolle is a spiritual teacher and author who was born in Germany and educated at the Universities of London and Cambridge. At the age of 29, a profound inner transformation radically changed the course of his life. The next few years were devoted to understanding, integrating and deepening that transformation, which marked the beginning of an intense inward journey. Later, he began to work in London with individuals and small groups as a counselor and spiritual teacher. Since 1995 he has lived in Vancouver, Canada. Eckhart Tolle is the author of the #1 New York Times bestseller The Power of Now (translated into 33 languages) and the highly acclaimed follow-up A New Earth, which are widely regarded as two of the most influential spiritual books of our time.
About the Chopra Center for Wellbeing
The Chopra Center for Wellbeing was founded by Deepak Chopra, M.D. and David Simon, M.D. in 1996. Located in Carlsbad, California, the Center offers a wide variety of programs, retreats, and teacher training programs that integrate the healing arts of the East with the best in modern Western medicine. The Chopra Center has helped millions of people around the world find peace of mind, physical balance, and emotional healing. The website http://www.chopra.com is your starting point on the path to wellness.
Media Contact:
Kathy Bankerd
(760) 494-1609
###