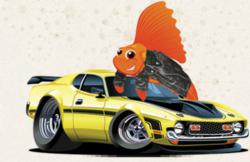 It's just tragic, when an individual and a team work so hard for so long to prepare for the Playoffs, and something like this happens.
Miami, FL (PRWEB) May 15, 2012
RoadFish.com men's lifestyle and finance magazine expressed disappointment over the news that Miami Heat forward Chris Bosh will be not be playing for an indefinite period of time after an MRI taken on Monday confirmed that he strained a lower abdominal muscle. Bosh got hurt late in the first half of Sunday night's Game 1 against the Indiana Pacers as he made a slam dunk with just over a minute left to go in the second quarter. The Miami Heat tweeted an "Injury Update" Monday morning, stating that the MRI revealed a costly injury of a strained abdominal muscle and that Bosh is "out indefinitely."
Fox Sports reported by way of the Associated Press that the Indiana Pacers pose much more of a threat to the Heat without Bosh. The article states that Miami Heat coach Erik Spoelstra had feared that the injury could have been worse, and was relieved to hear the diagnosis of the abdominal muscle strain. The article speculates that in addition to sitting out Game 2 against the Pacers on Tuesday night, Bosh most likely will not have any more play time in this series. Seemingly agreeing with this prognosis, Bosh is quoted as saying, "This season has to be extended for me to play again, so that's what's on my mind."
Dwayne Wade and LeBron James are expected to have to carry the Heat without Bosh for the remainder of the series. The Associated Press article hypothesized that the Heat will most likely start either Joel Anthony or Ronny Turiaf at center, and potentially put James in as power forward for a portion of the game. Udonis Haslem is expected to start as a power forward, like he did in the last game.
RoadFish.com's Senior staff writer is quoted as saying, "I don't think any true basketball fan likes to see this kind of injury, let alone during the playoffs, even if you are the fan of the opposition. It's just tragic, when an individual and a team work so hard for so long to prepare for the Playoffs, and something like this happens. It is, I think, an inevitable part of the game, but sometimes timing can be so unfortunate. I really hope that the Heat can overcome this obstacle and learn quickly how to play without Bosh."
Mike Prada of SBNation.com points out exactly what the Heat will be missing by lacking Bosh on the court. Prada reports that Bosh's PER (player efficiency rating) is 18.9, which is below both LeBron James and Dwayne Wade but is head and shoulders above any of his other Heat teammates. Prada also writes that Bosh uses 24.2 percent of the Heat's possessions, and there is only one other Heat player aside from Wade and James who uses over 18%, and that's Norris Cole who isn't even in the rotation right now. In the past two years, when Bosh has not stepped off the bench, the Heat are only 7-7 without him. Prada believes that the Heat will miss Bosh the most when it comes time to play offense, as he completes the trio with James and Wade for picking, rolling and popping that opens up the floor and allows for room to drive to the basket. Prada implies that there is more of a greedy feeling when Bosh is not on the court, and the teams towards to what Prada calls a "my turn offense."
RoadFish.com's Senior staff writer is quoted as saying, "Bosh seems to have a great attitude about it, but you can't help but feel for the guy. If it was me, I would be majorly bummed out that this might be it for the season. I hope for Bosh's sake that his team does him proud and plays strong without him."
All in all, Bosh appears to have a good attitude about everything. In the above-mentioned AP article, he is quoted as saying, "It's not the worst thing that could have happened, so that was good news. We started treatments and everything, it's a process and we'll see how my body responds. ... There's been so many curveballs throughout my career and really throughout this season, nothing would surprise me. I just want to be out there and playing with my teammates."
About RoadFish.com
RoadFish.com is an online men's lifestyle and finance magazine targeted toward men in their 30's and 40's that have already attained a moderate level of success in life, and are striving toward more. It goes over current events of interest to this group, such things as exciting adventures, consumer interests, and initial public offerings as well as ways to make more and save more money. It is a publication owned by Purpose Inc.
###