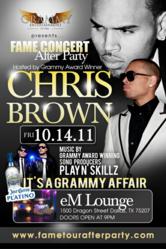 Pound, Co-CEO of Grammy ENT says, "We anticipate this event is going to be one of the biggest parties of the year in Dallas. We predict it will sell out!"
Dallas, Texas (PRWEB) September 30, 2011
Grammy ENT, one of the South's premiere entertainment and special events company's, is throwing the official F.A.M.E Tour Concert After Party in Dallas, Texas at eM Lounge hosted by Chris Brown on Friday, October 14, 2011. Doors will open at 9pm. The actor and Grammy Award Winning R&B mega star is set to host the special event along with his celebrity friends immediately following the show. Dallas, Texas Natives and Grammy Award Winning Song Producers, Play n' Skillz, are the special guest DJ's for the night. Suleiman Izuagbe aka DJ King Solo, one of the Co-Founders and Co-CEO's of Grammy ENT and his hit making producer/brother, Jai Got Them Beats ("Come to Me", P. Diddy featuring Nichole Scherzinger) are set to also spin that night. The DJ Duo act, 2DopeDJs, are being featured along with Play n' Skillz.
eM The Venue is a spectacular special events facility located in Dallas' Art's District at 1500 Dragon Street. Limited discounted pre-sale tickets for the event can be purchased through ticketleap.com on the events website at http://www.fametourafterparty.com starting Friday, September 30 at 12AM. One of the event sponsors is Jose Cuervo Plantino. The Cuervo family's private reserve handcrafted 100% blue agave Silver Tequila. For more sponsorship opportunities, VIP pre-sale tickets, table and bottle reservations, please contact the event's organizer, Dalyce "D'Lyte" Kelley at (214) 560.8811 (serious inquiries only).
Pound, Co-CEO of Grammy ENT says, "We anticipate this event is going to be one of the biggest parties of the year in Dallas. We predict it will sell out!" KG, another entrepreneur and Co-CEO of Grammy ENT adds, "With Chris Brown's mass appeal and him being at the peak of his career, everybody that is anybody, will want to be in attendance that night".
About Grammy ENT., LLC
Founded in 2011, Grammy ENT is one of the South's premiere entertainment and special events company's based in Dallas, Texas. Grammy ENT consists of several entrepreneurs and business partners, along with a team of experts in the fields of public relations, talent booking, event planning, promotions, marketing and media advertisement, that have come together to form one entertainment company that will put on some of the biggest and most exclusive star studded events in Dallas, Texas and beyond.
Who: Grammy Ent.
What: F.A.M.E Tour Concert After Party hosted by Chris Brown with music by Grammy Award Winning Song Producers, Play n' Skillz
When: Friday, October 14, 2011 | 9pm - 2am
Where: eM Lounge: 1500 Dragon Street, Dallas, TX 75207 (Dallas' Arts District)
Media Contact:
Dalyce "D'Lyte" Kelley
Key II The City Multimedia for Grammy ENT., LLC
214-560-8811
keyiithecity(at)gmail(dot)com
###