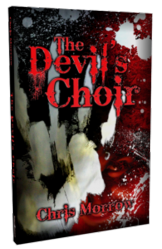 This genre allows a writer to delve into important matters, matters of faith, of why we suffer, why we endure pain and death – things that affect us all.
HOLMEN, Wis (PRWEB) October 20, 2012
There is a reason Chris Morrow's new supernatural thriller "The Devil's Choir" comes to a head on the night of a little town's annual Halloween gala.
"I've always loved Halloween. I guess it goes back to when I was a child and my mom would take me trick-or-treating all over our little Midwestern town. It was fun and at the same time a little creepy, the big kids in their scary costumes; knocking on doors, never knowing who was going to open them. Then in high school it was hayrides and scavenger hunts. I wanted to include the excitement and spirit of Halloween in 'The Devil's Choir,'" Morrow said.
Although "The Devil's Choir" is not short on horror, it still holds true to Morrow's Christian values.
"Being a Christian, I know a lot of us and a lot of us like to read fiction that keeps us on the edge of our seat. There are a few Christian writers out there doing it but not many. I wanted to provide a horror novel with a Christian worldview. But just because it has a Christian worldview doesn't mean that non-Christians are not going to like it too.
"'The Exorcist' has a Christian worldview. A lot of contemporary horror novels and movies do. The fact is, the Bible is full of supernatural evil and if there is anyone who is predisposed to believing in supernatural evil, it's Christians."
Morrow said he's not the kind of guy who gets his kicks on roller coasters. "I prefer something a little tamer like horror movies," he said with a laugh.
"This genre allows a writer to delve into important matters, matters of faith, of why we suffer, why we endure pain and death – things that affect us all. And yet it can be done in a way that detaches the reader from reality by taking them into a made-up world. The hard part is getting them to suspend their disbelief and become immersed in the story. Hopefully that's what I've done."
"The Devil's Choir," available as an ebook on Wednesday, Oct. 24 and in print Jan. 18, 2013, is the story of a young college student named Melanie Elarton. She is no average young lady however. She can see other people's thoughts.
"I always loved Stephen King's 'The Shining' and I suppose I got some inspiration there. I think some people are a little more in tune with things of the spirit, the invisible things. Melanie Elarton is a lot more in tune with those things."
The novel's other primary character is Ari, a man with a mysterious past who is a member of a secret order that investigates supernatural evil. When girls start turning up dead on the campus of Melanie's small Midwestern college, their paths cross and they team up to try and find the killer. However, Ari has accumulated many enemies and the hunters soon become the hunted. Plot twists and hard turns take place on the night of the Halloween costume ball.
"This is little town Midwestern America. It's what I know and a big part of who I am," Morrow said.
But in the little fictional town of Oak Springs, Kan., the devil is at work. Stay tuned.
Morrow is one of the authors in the Bard and Book community, where he has written and released some short stories in the horror genre, such as "The Fear and the Storm" and "A Devious Halloween Scheme."
More information about Morrow and "The Devil's Choir" is available on his website at http://www.devilschoir.com.