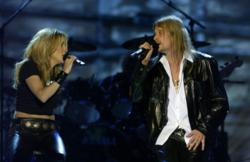 San Jose, CA (Vocus/PRWEB) July 07, 2011
After collaborating on the wildly-popular country ballad 'Collide,' Kid Rock and Sheryl Crow have once again combined forces to kick off the 'Born Free Summer Tour,' which includes about 30 shows in 21 different states. Top Notch Seats, a Bay Area ticket broker, is now selling high-quality Sheryl Crow and Kid Rock concert tickets at very reasonable prices.
The tour does not feature a stop in Kid Rock's home state of Michigan, but the tour will pay a visit to St. Louis, Missouri, which is only about 100 miles north of Crow's tiny hometown of Kennett, Missouri. By the end of July, the tour makes its way into the state of California, stopping for a July 26th show in Sacramento and a July 27th show in Paso Robles before making an appearance at the Shoreline Amphitheater in Mountain View on July 29th.
"Kid Rock and Sheryl Crow concert tickets for California tour dates should be purchased immediately, as both musicians have large followings in the Golden State," said Paul Hilig of Top Notch Seats.
Much like a bottle of fine wine, both Sheryl Crow and Kid Rock have refined their bold and robust tastes over the years, firmly cementing their places amongst the modern greats of country and rock along the way. Kid Rock turned 40 earlier this year and Crow is still hanging onto the edge of her 1st half-century at age 49.
At a time when some performers are accepting the fact that their biggest audiences are in the past, these two have set out on a tour that will likely pack well over two dozen arenas and amphitheaters all across this fine nation. Incidentally, Kid Rock has made no mention of plans to change his first name to "Full Grown Rock" or "Middle Aged Rock." Each of the two performers has fans of all ages and in all regions of the country, which is sure to give the concerts a vibrant atmosphere.
For more information about the Born Free Summer Tour, Kid Rock and Sheryl Crow concert tickets, or information about Top Notch Seats, visit them online at TopNotchSeats.com.
About Top Notch Seats
Top Notch Seats is located in Campbell, California, adjacent to the city of San Jose, in the heart of Silicon Valley. TNS has been in business since 1993, providing quality seating and tickets to all major concerts, theatre and San Francisco Bay Area sports events in the San Francisco Bay Area and nationwide.
Top Notch Seats specializes in providing Bay Area concert tickets with a wide variety of seating options to customers, which enables them to choose their favorite vantage point. TNS is a licensed Bay Area ticket broker engaged in the business of buying and selling first-rate tickets. They do not sell tickets at face value; ticket prices are often well above face value and reflect the cost of obtaining quality seating.
###