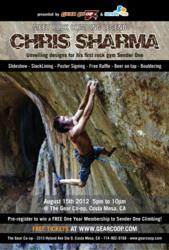 Costa Mesa, CA (PRWEB) August 08, 2012
Chris Sharma, one of the world's most iconic rock climbers, will be unveiling the designs for his first rock climbing gym, Sender One, on August 15th, 2012 from 5pm - 10pm PDT at the Gear Co-op.
Chris Sharma and the Sender One team will present 3D walkthroughs, blueprint images, and plans for the epic 25,000 square foot bouldering, rope climbing, yoga, and state-of-the-art fitness facility. Sender One will showcase some of the largest walls in the U.S. at up to 50 feet tall and will have the first Funtopia adventure center in the U.S.
Free tickets are available at: http://www.gearcoop.com
Chris and the Sender One team will answer questions about the inception and design of Southern California's most eagerly anticipated rock climbing gym. In addition, Chris will present his latest climbing slideshow and talk about how he keeps grounded while putting up first ascents of some of the world's hardest lines.
The event will take place at the Gear Co-op in Costa Mesa from 5pm—10pm. Around 1,000 people are expected to attend for a poster signing, slideshow, and virtual walkthrough of the new facility.
There will also be a free raffle with tons of great prizes (including a 1-year membership to Sender One), slacklining, bouldering, and vendors from some of the finest rock climbing and outdoor brands displaying the latest and greatest gear, as well as top rated food trucks.
All proceeds of the event will benefit the Sharmafund, an organization dedicated to giving underprivileged kids the enriching experience of outdoor rock climbing.
About Gear Co-op
The Gear Co-op is a climbing and outdoor shop located in sunny Costa Mesa, California. They are also known as the Home of Free 2-day Shipping . These gearheads test almost all of the gear they carry on the nearby stomping grounds of Joshua Tree, Tahquitz, and the Eastern Sierras. Both in-store and online, customer satisfaction is their number one priority. Gear Co-op thinks the worst part about shopping online is waiting a week to get your gear.
About Sender One Climbing
Sender One is a cutting edge indoor climbing facility scheduled to open in late Fall 2012 at McFadden Place in Santa Ana, CA. It is the first climbing gym designed and owned by Chris Sharma. With nearly 25,000 square feet of floor space, Sender One will showcase some of the tallest route walls in the U.S., up to 50 feet tall, a yoga facility, and state-of-the-art fitness equipment.