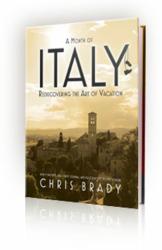 Most people don't think of vacation as an art form, but it is. Too many people aren't taking sufficient breaks, or the right kind of breaks. A proper vacation should be more than rest—it should bring restoration. -- Chris Brady
Flint, Michigan (PRWEB) July 03, 2012
Best-selling author Chris Brady knows many people these days feel overworked, overstressed, out of focus, and maxed out. Cell phones, emails, social networks, texts, and the like just add to the feeling of being overwhelmed. Restoring balance can require some serious restoration—a break from it all, meaning something more than a frenzied weekend or busy plastic vacation. Yet few ever consider the fact that they could take a career break—a sabbatical—to allow themselves to clear their minds and restore focus.
But with adventure stories of an ordinary family traveling through the back roads of Italy, seeing the famous Tuscan countryside, and sampling Italy's cuisine, sunsets, culture, art, architecture, and history, NY Times, USA Today, and Wall Street Journal best-selling author Chris Brady endeavors to convince readers that taking just such a break can bring profound benefits with his new release A Month of Italy: Rediscovering the Art of Vacation.
In his uniquely humorous fashion, Chris Brady relates the importance of strategic breaks and even sometimes "radical sabbaticals" to sharpen one's saw and maintain peak performance, optimum health, and overall well-being. The dominant message of the book is: "Sometimes you have to go slow in order to go fast."
Brady's book certainly couldn't come out at a better time. Americans are working more and more hours and taking fewer and fewer vacations, leading to stress, burnout, and health challenges. Among the list of developed countries, the U.S. now ranks near the bottom when it comes to the average number of paid vacation days taken per year, with a staggeringly low average of just thirteen days (compared to forty-two for Italy, thirty-seven for France, and thirty-five for Germany). Even worse than the small number of breaks Americans takes in a year is what they do with their time during those breaks. One survey stated that 88 percent of Americans carry electronic devices while on vacation to communicate with work. That's 88 percent. Given the fact that the idea of taking a vacation is nothing new and almost everyone seems to agree that at least some downtime is critical for maintaining peak performance and happiness, these trends in the opposite direction are shocking.
Chris Brady relates his own personal story in the book, where he explains that he had lost his passion for excellence, was finding himself snapping at people, and was becoming annoyed at situations that would normally not even bother him. Then he realized that he had gotten away from his own well-proven formula for what he calls "strategic sabbaticals": intentionally scheduled breaks of various durations taken with the express purpose of keeping himself sharp and fully engaged in life. "People used to ask me all the time how I stayed so enthusiastic and motivated," Brady states. "Suddenly, I realized they weren't asking me that anymore."
The solution?
A "radical sabbatical." Chris Brady packed up his family of six and headed to the dreamy land of Italy, sticking mostly to the back roads and blending as deeply and smoothly as possible into the local cultures. What followed was a love and adventure story filled with hilarity, architecture, history, art, family, and success fundamentals.
And the result?
Within one year of Brady's sabbatical, he relocated his family home to another state as he had long dreamt of doing, founded a multimillion dollar company with several of his best friends, and wrote a best-selling book—not bad for the clarity provided by just one four-week break.
"Most people don't think of vacation as an art form," says Brady, "but it is. Too many people aren't taking sufficient breaks, or the right kind of breaks. A proper vacation should be more than rest—it should bring restoration. Living a fulfilling life that matters only happens with specific intent. And learning how to stay sharp and 'in the zone' is a very important, in fact strategic, part of that." Brady's book does an excellent job of communicating these important life truths, largely because of its wildly entertaining narrative style. Brady doesn't pontificate with a bunch of "dos and don'ts," but instead demonstrates the art of vacation through his own adventures.
Critics are already raving about Chris Brady's book. Whether readers are looking for an entertaining summer beach read or a manual for living a better life, A Month of Italy will surely fit the bill. A Month of Italy can be found wherever books are sold, and the author invites readers to join the community of others who are Rediscovering the Art of Vacation at http://www.amonthofitaly.com.