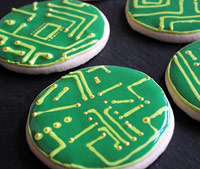 Making sure users will see clear information about cookies is important for compliance.
Dover, Kent (PRWEB UK) 13 August 2012
The Kent company is offering advice for companies or individuals unsure of The Privacy and Electronic Communications (EC Directive) (Amendment) Regulations 2011. The UK introduced the amendments on 25 May 2011. The legislation requires that people are told about cookies and given the choice as to which of their online activities are monitored.
Chris Longley of http://www.chrislongley.co.uk/ confirms there is still confusion around the legislation. "There are quite a few website owners who have still not yet implemented a cookie audit. Some of this is based around the fact they are not sure how it affects them and they do not know how to go about an audit. We hope to offer some free advice and happy to provide a solution if required."
Some companies may not need to do anything as their website either does not use cookies or uses Exempted Cookies. Exempt cookies keep track of a user's input when filling online forms or as a shopping cart, and user interface customisation cookies, eg language preference cookies to remember the language selected by the user.
However, it will be necessary to have a clearly worded cookie and privacy policy in order for the user to understand the nature and usage and any cookies are used. At present, information about cookies is generally provided in a privacy policy accessed through a link. Making sure users will see clear information about cookies is important for compliance.
The firm suggests, "Our audit will confirm that use of third party cookies will need to be set on a consentual basis. If you intend to use implied consent, you need to be satisfied that your users understand that their actions will result in cookies being set. Without this understanding their is no informed consent. If the information collected about website use is passed to a third party this, should be made this absolutely clear to the user."
What is clear is that the more directly the setting of a cookie or similar technology relates to the user's personal information, the more carefully you need to think about how you get consent. The more privacy intrusive your activity, the more priority you will need to give to getting meaningful consent.
The Audit will Identify which cookies are operating on or through your website, confirm the purpose(s) of each of these cookies, Identify what data each cookie holds, confirm the type of cookie – session or persistent, if it is a persistent cookie how long is its lifespan? Is it a first or third party cookie? If it is a third party cookie who is setting it?
Double check that your cookie and privacy policy provides accurate and clear information about each cookie.
The Kent based company can be contacted for further information.