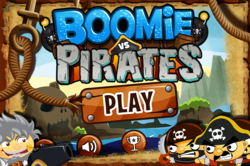 Edwardsville, IL (PRWEB) October 30, 2012
It's well noted that President Barak Obama loves video games, apps, and new technology, and with the election just days away, officials at Appiteks say their game called Boomie vs Pirates could prove to be the smoking gun that both presidential candidates need to relax, before and after the election
"If there's ever been a game created to help anyone relax, Boomie vs Pirates is the one," said Chris Luck, CEO of Appiteks, the developer of Boomie vs Pirates. "I know that the President likes to play good games and with our game app being one of the top games on the market right now, we're inviting both President Obama and Republican candidate Mitt Romney to download our game to help them take the edge off."
Luck went on to note that Boomie vs Pirates, is a game that brings out the kid in everyone.
"From all of the recent polls and expert analysis, the race is virtually deadlocked to where any one of the two can emerge as the next president of the United States," Luck said. "To me, that's a heck of a lot of pressure, stress, and god knows what else. However, by simply playing this game, I guarantee that both candidates will feel at ease, they will feel refreshed and rejuvenated to make their final push."
Boomie vs Pirates, according the industry reports, is listed in the top 100 free puzzle games and among the top 100 free action games.
"This game is jammed packed with no-stop action, thrills, and challenges that will keep anyone who plays it, thirsting for more," Luck said about the game, which he says was developed geared toward bring the family together.
"I read that President Obama is more concerned about protecting his oldest daughter from having social media profiles than he is about her going on a date, well Boomie vs Pirates is one of those games that will not only keep people from being bored enough to want to experiment with social media profiles, but it also provides positive brain stimulation."
Luck stressed that he understands how grueling running for president, any office, or even working a traditional 9-5 job can be. He added that Boomie vs Pirates is a game that's specifically designed to relieve stress while providing a since of calmness and peace of mind.
"At the end of the day, we all want piece of mind and to be stress free," Luck said. "Boomie vs Pirates is the solution to accomplishing that, and I truly believe that whichever presidential candidate tried this game, will not only be the fresher and more relaxed of the two, but will also have the extra boost of energy needed to pull off what's needed to win the election."
For more information, please visit: http://www.appiteks.com