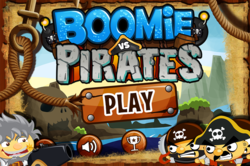 This is a win, win situation for everyone
(PRWEB) November 01, 2012
Officials with Appiteks, the creators and developers of one of the top free game iPhone apps announced today that with every 100 new downloads of its game, the company will make a cash donation on behalf of its game users in an effort to support the donation drive for Hurricane Sandy victims.
"Our game is absolutely free to download, so users don't have to pay anything, but if they want to help Hurricane Sandy victims, with every 100 new downloads, we will make a donation to help provide relief for those suffering right now," said Chris Luck, ceo of Appiteks, the developer of Boomie vs Pirates.
Luck said his company will partner with a variety of donation outlets such as the Red Cross to make the contribution on behalf of its game users.
"This is a win, win situation for everyone," Luck said. "Boomie vs Pirates, is an awesome game to play. It's fun, exciting, and is one of the best and hottest games on the market right now. Those who download the game, which costs them absolutely nothing, will be able to get a great game while helping the national relief effort for Hurricane Sandy victims."
Luck explained that the cash donation will come directly from its company's operating fund.
"We're not raising any money or anything, we're making the donation because it's the right thing to do," Luck said. "We not only believe in creating great games, but we also believe in supporting local and national efforts. Giving back to the community is what we're all about. I believe that to whom much is given, much is also required."
The chief executive officer added that his heart and prayers are with the families of those who have lost loved ones and those affected by Sandy in any way.
"Sometimes in life things happen that's completely out of our control," Luck said, before adding, "But what we can control is how we respond to these events. Appiteks' response is to help by providing financial support to those affected by the storm."
Luck noted that Boomie vs Pirates, is specifically designed to provide users with endless hours of fun.
"Once gamers download this game, they can look forward to non-stop action, fun, excitement, and adventure," Luck said. "Users can have a good time for free, something that is virtually unheard of these days."
For more information, please visit: http://www.appiteks.com