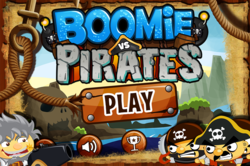 Edwardsville, IL (PRWEB) November 07, 2012
On Sunday, an incredibly rare Atari 2600 game called Air Raid was sold for $33,000, but the developers of a new game app called Boomie vs Pirates say their game could be just as valuable in years to come.
"Boomie vs Pirates is definitely one of those games that you've got to hold on to," said Chris Luck, ceo of Appiteks, the developer of Boomie vs Pirates. "Air Raid was a game that's well respected in the gaming industry. I played it too, and that's the kind of excellence that we've put into our game."
As to the similarity of Boomie vs Pirates and Air Raid, Luck said both games were created so that everyone in the family could play and enjoy.
Released in 1982 by a company called Men-a-Vision, Air Raid is considered one of gaming's rarest treasures. Only about a dozen copies have popped up over the years, making it a Holy Grail for Atari 2600 game collectors.
"When it's all said and done, I expect Boomie vs Pirates to be one of those games that's also talked about decades later," Luck stressed about the game that's listed in the top free game apps on the market today.
"Boomie vs Pirates has only been on the market for a short period of time, but the reviews are extremely positive," Luck pointed out.
The chief executive officer added that Boomie vs Pirates is specifically designed to provide users with endless hours of fun.
"Once gamers download this game, they can look forward to non-stop action, fun, excitement, and adventure," Luck said. "Users can have a good time for free, something that is virtually unheard of these days."
Luck noted that Boomie vs Pirates is one of the few games on the market that not only rivals games such as Angry Birds, but "it's flat out better."
For more information, please visit: http://www.appiteks.com