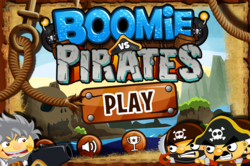 Edwardsville, IL (PRWEB) November 15, 2012
Officials with Appiteks, the creator of the newly released iPhone game app Boomie vs Pirates, announced today that the average game play time is nine minutes, making it among the top for minutes played per game user.
"Everyone in the industry knows that if you can get between two to three minutes per user, it's a grand slam, but when you're able to get nine minutes or more like our game, Boomie vs Pirates, that says a lot about the game," said Chris Luck, CEO of Appiteks.
Luck explained that part of what makes Boomie vs Pirates so unique is that unlike most games on the market today, Boomie vs Pirates was developed with the entire family in mind.
"We wanted to develop something that's fun for everyone in the family to play," Luck said. "But just because people of all ages can play it doesn't mean that it's not a good game, which is typical of most on the market today. Boomie vs Pirates, is one of the most adventurous and exciting games available for free download on the iTunes marketplace."
Boomie vs Pirates, according to stats from Apple's App Store, is among the top free game apps on the market and was downloaded more than 60,000 times within the first weeks of its release.
Luck went on to recommend Boomie vs Pirates to parents during the upcoming holiday break.
"We know that people will be hitting the road this holiday season and I know from personal experience that keeping the children busy during the sometimes long drive or flight to wherever you're going can be a challenge," Luck said. "Boomie vs Pirates, is among the elite when it comes to keeping users engaged and wanting to play for long periods of time. The great thing about Boomie vs Pirates is that it's a game that's fun, but also provides brain stimulation. The bottom line is that you can't go wrong with Boomie vs Pirates. It's totally free and provides endless amounts of benefits."
For more information, please visit: http://www.appiteks.com