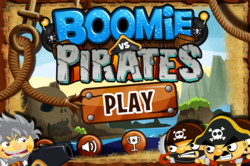 Edwardsville, IL (PRWEB) December 17, 2012
According to a new Gallop poll, U.S. consumers say they will spend an average of $770 on Christmas gifts this year, but Chris Luck, ceo of the game app development company Appiteks, said its game called Boomie VS Pirates is the best way to go since it gives people what they want and it costs absolutely nothing to own.
"There are a lot of good gifts to get loved ones, but nothing beats a free gift," Luck stressed. "Our game is not only fun, exciting, and family oriented, but it's free to download from Apple's App Store and play."
The option offered by Appiteks to get a free Christmas gift could prove to have perfect timing.
According to the Gallup poll, which surveyed 1,015 adults nationwide, until now, consumers' Christmas spending forecasts had increased each year since 2008, when their spending intentions had plummeted to a two-decade low.
Nearly nine in 10 respondents say they will spend some amount of money on Christmas gifts, including 30 percent who will spend $1,000 or more, slightly more than in 2011.
At the same time, 6 percent say they will not spend any amount, and another 5 percent are unsure what they will spend.
"Whether spending money for Christmas is in your plans or not, being able to get a free gift for yourself or someone else is a plus," Luck said.
However, those who chose to download Boomie vs Pirates aren't just downloading any game. According to Apple's App Store download statistics, Boomie vs Pirates is one of the most popular free game apps on the market today.
"But if you're in the holiday spirit and you like our free game, you can make a donation as little as five dollars to our upcoming Kickstarter campaign.
The five dollars that Appiteks is requesting can be made on Kickstarter.com, the world's largest funding platform for creative projects.
The mission of Kickstarter, Luck said, is to help creative people, such as artists, musicians, filmmakers, designers and more, fund their own creative projects.
"Our goal is to raise $100,000 to provide proper funds for marketing," Luck said, before adding, "With the limited budget that we have, Boomie vs Pirates has already been proven to be a success. Your $5 donation will not only help us stay at the top, but you'll also play a role in helping us bring families back together again."
For more information, please visit: http://www.appiteks.com