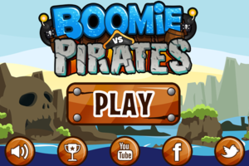 Proceed with caution when the "Bad Piggies" release date approaches, let the reviews come in before taking the leap.
Edwardsville, IL (PRWEB) September 07, 2012
There is skepticism surrounding the impending release of the "Bad Piggies" app set to be introduced this month by Rovio, the creators of the mega-hit "Angry Birds."
With the huge success "Angry Birds" is still experiencing and the fatal miss with their last release, "Bad Piggies" hopes to offer something great in order to contend with its predecessor.
Many, especially the super fans of the original, feel that the transition from "Angry Birds" to "Bad Piggies" is too drastic and the hype will be left unsupported, no slingshot for starters is a major concern.
The "Angry Birds" app is still downloaded daily and the characters have even begun popping up in toy aisles and on clothing racks. The brand power is tremendous but any subsequent successes are yet to be realized.
Will "Bad Piggies" do it? We'll just have to wait and see.
The mobile gaming industry is growing by leaps and bounds every day. With the wide selection available, those that are not better than what's out there, innovative, and entertaining typically fail.
Proceed with caution when the "Bad Piggies" release date approaches, let the reviews come in before taking the leap.
Instead, you should be watching for Appiteks new game, "Boomie vs Pirates."
This up and coming company is finally in the finishing stages of releasing their highly anticipated "Boomie vs Pirates" inaugural app after years of researching used to create what they say is exactly what every gamer wants.
There are hundreds, if not thousands of app companies out there just throwing gaming products to the market left and right. They aren't doing the research and spending the time it takes to produce the real stuff people want.
Chris Luck, founder of Appiteks, prides himself on learning what is missing from the market and what people are looking for. This is exactly what he did with "Boomie vs Pirates."
Many feel this is just the beginning for the Illinois-based entrepreneur and are already anticipating his next creation. Appiteks is set to not only rival its largest competitors but take mobile gaming to a level they never dreamed of.
Luck said, "While the green piggies are trying to get off their island in search of some eggs to eat, you could be defending yours from evil pirates using innovative weapons across more than 200 levels."
Imaging firing at the screen with an arsenal of state-of-the art weapons and following crazy characters through a defender's paradise. "Boomie vs Pirates" can give you all of that and more.
Real gamers want more weapons, more action, and ore interaction. Lucky for them, that's exactly what "Boomie vs Pirates" has to offer.
This in-your-face, intense, feature rich and fun new game is the one to watch for in the coming months.