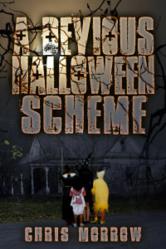 The horror genre is fertile ground for a writer, a place where as a writer, I can convey deeper thoughts about life and still keep the reader engaged.
(PRWEB) September 25, 2012
Bard and Book Publishing announced the addition in September of Chris Morrow to its list of contributing authors. Bard and Book offers a new publishing model to match the cultural changes in book consumption, bringing the author and the reader closer together through online community. The community of readers receives free access to eBook formatted short stories, poems, and other created pieces, with favorites considered for print distribution.
The publishing site involves two levels of involvement for readers: a free member side allows the reader to download offerings within a limited time frame for their enjoyment, or a subscribing member side, allowing free and unfettered access to all creative works published within the author group.
A new addition to the team of authors at Bard and Book, Chris Morrow's recent accomplishments include an award as first runner-up in the Athanatos Christian Ministry 2012 Novel Contest for his horror novel "The Devil's Choir," due out as an eBook around Halloween. And Morrow is at it again. This time, he thrills and chills readers with "A Devious Halloween Scheme," his suspenseful short story available for free on Bard and Book until October 22.
In "A Devious Halloween Scheme," we meet Cassie Clark and Maddy Roberts who conspire on Halloween to play a trick on their single parents, Cam Clark and Kimberly Roberts. They are certain that a little time together will cause their parents to fall in love. The girls don't realize that their scheme has set off a chain reaction of events that will leave their very lives in danger. What secrets does a strange old house hold? Will Cam and Kimberly be able to decipher the riddle before it's too late?
Also available free of charge now on Bard and Book is Morrow's harrowing tale, "Fear and the Storm" and the first installment of Morrow's next horror novel, "Hickory Wind." Subscribers can additionally enjoy "The 2012 Collected Works of Chris Morrow."
"I'm honored to be one of the writers for Bard and Book. The publishing world has been undergoing a lot of change over the last few years and with the game changing, mostly because of technology, publishers have to stay a step ahead. I believe that Anthony Horvath and everyone at Bard and Book hold a vision of where the industry is going. What they have in mind here benefits the writers and the readers. It's a unique cutting edge approach." says Chris Morrow.
"Bard and Book's book covers are well designed, the stories are easy to access and read. It's a win-win for us writers and for the reading public. I'm hoping people will take advantage of this new approach." continues Morrow, adding, "as a writer I'm excited about the opportunity to interact with the readers."
About his works, Morrow shares "I think that because of my background as a horror writer, I bring something to the table that may be a little different than most of the other writers. I believe that horror has an important place in our literary tradition and frankly, that's the stuff I grew up reading and it's what I still enjoy reading. The horror genre is fertile ground for a writer, a place where as a writer, I can convey deeper thoughts about life and still keep the reader engaged. And if those grand intentions fail, I have to say, I'm not above just going for the gross-out. I want the reader to feel something and fear is a powerful emotion."
Chris Morrow lives in Southwest Missouri with his wife and two children. His fiction has been published in numerous print and online magazines. When he isn't writing he can be found playing piano in Sober as a Judge, a rock 'n' roll band, or lamenting yet another loss by the Kansas City Royals. His website is http://chrismorrow-writer.com
Bard and Book's website is http://bardandbook.com.