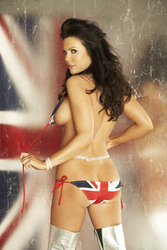 This film is so much wilder than the first
Beverly Hills, CA (PRWEB) August 18, 2009
Christa Campbell is currently on the set in Iowa filming the much-anticipated sequel to the original 2001 Maniacs. She will once again be playing the role of the Milk Maiden, which won many over many fans of the film and the genre. The film remains untitled and is set for release in 2010.
While on location, Christa plans to Twitter about the production of the film and upload photos. She will also maintain activity on her celebrity blog at FEAR.net.
This sequel continues the storyline that took the original Pleasant Valley characters on the road for the Pleasant Valley Traveling Road Show. The maniacs hope to gather more victims as they head west. In addition to Campbell, returning cast members include Lin Shaye and Bill Mosely.
"This film is so much wilder than the first," exclaims Campbell. "We'll see more kills and more blood. I hope the new cast members know what they're in for!"
Campbell made her mark in the first film. The success of the first film, and the potential success of its sequel, is due in large part to the development that Campbell brought to the character of the Milk Maiden.
"You will see the Milk Maiden transform in this film," states Campbell. "In the first film, you were introduced to these characters. Now, with the second, you will really see what we can do!"
Her return to the horror genre and the Maniacs role marks a victory for Christa Campbell followers, Maniac enthusiasts and horror movie buffs. Fans can follow Christa on Twitter, read her blog at fear.net, or check out her MySpace page to see more development with the film and to find out the scoop about Christa's other projects.
About Christa Campbell:
After starring in her first film, 2001 Maniacs, Christa Campbell has made a name for herself in horror films. Since appearing in films like Day of the Dead and Wickerman, Christa has branched out from the horror genre, taking on roles in films like Finding Bliss, Hero Wanted, Lonely Hearts, Cool Dog, and currently starring in Lies and Illusions with Christian Slater and Cuba Gooding, Jr., to be released this year. Her return to film the Maniacs sequel is a treat for Christa Campbell fans and horror film enthusiasts alike.
###