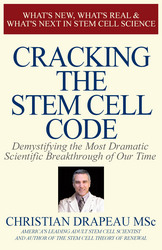 It's an honor to be invited to present our Adult Stem Cell findings to California's leading Mensans and to envision with them an entirely new paradigm in health and wellness
Los Angeles, CA (Vocus) February 14, 2010
Stem cell scientist Christian Drapeau, author of Cracking the Stem Cell Code and co-founder of California-based STEMTech HealthSciences, is slated to address California's brightest at Mensa's 2010 Los Angeles GLAAM Conference at the Warner Center Marriott on February 14 at 10:30 AM.
Mensa attendees, with membership requiring a top 2% IQ, will learn the details of recent scientific discoveries which affirm Christian Drapeau's Stem Cell Theory of Renewal, which posits that a person's own stem cells are in fact the body's natural renewal system. Christian will forecast how these discoveries will usher in a new era in human wellness and how perhaps many diseases might be eliminated in our lifetimes.
"It's an honor to be invited to present our Adult Stem Cell findings to California's leading Mensans and to envision with them an entirely new paradigm in health and wellness" said Drapeau.
Drapeau's presentation is based on his best-selling book Cracking the Stem Cell Code (Sutton Hart Press 2010) wherein he demystifies the stem cell phenomenon and reveals the immense potential of Adult Stem Cell therapies, nutrition, and science.
The Mensa event marks the mid-point of Drapeau's Cracking the Stem Cell Code book tour which launched in New York City and continues through March, 2010. The book achieved Amazon best seller status in three categories on its debut day and is now the best selling stem cell book to date.
Media Contact: jay(at)platformstrategy(dot)com 360.909.0527
About Mensa: Mensa is an international society with the sole qualification for membership standardized testing results in the top two percent of the population. Mensa is a non profit with the purpose to conduct research in psychology and social science, identify and foster human intelligence for the benefit of humanity and serve as a means for stimulating intellectual and social contacts among its members. GLAAM is the Greater Los Angeles Area Mensa, the local 1800 member group for Los Angeles and surrounding counties.
About Christian Drapeau: Christian is America's best known advocate for Adult Stem Cell research and the health applications of Adult Stem Cell science. He co-founded Southern California-based STEMTech HealthSciences, now a multi national research and supplement manufacturing-distribution firm focused on adult stem cell science and stem cell nutrition. Christian travels more than 100,000 miles each year speaking at medical, scientific, public, and business events on six continents. He holds a BS in Neurophysiology from McGill University and a Master of Science in Neurology and Neurosurgery from the Montreal Neurological Institute. Christian authored the best seller Cracking the Stem Cell Code http://www.suttonhart.com (Sutton Hart Press 2010).
###