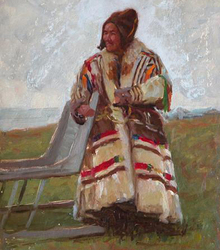 There are 6,912 languages spoken in the world today, and 2,251 of those languages don't have any translation of the Bible available to them
Chattanooga, TN (PRWEB) February 19, 2008
"There are 6,912 languages spoken in the world today, and 2,251 of those languages don't have any translation of the Bible available to them," according to Wycliffe Bible Translators, Inc. of Orlando, Florida. As a result, 193 million people don't have any access to a Bible written in their native language. Now, thanks to the generosity of the L.P. Cline Gallery in Chattanooga, Tennessee, the sale of a collection of prized Russian art will benefit Christian evangelism and Wycliffe's international Bible translation efforts.
This chain of events was started almost fifty years ago when a young Soviet painter named Nicolai Dmitrevich Chernushkin traveled to Siberia, the coldest inhabited place on earth, to spend time with the Nenets, a tribe of rugged nomads with a life-style that most westerners can't even begin to imagine.
Siberia is often thought to be a harsh wasteland, home to nothing but ice, snow, and exiles. Yet, Chernushkin quickly discovered the Nenets had a culture that enthusiastically embraced their environment, their way of life, and the region's abundant reindeer. According to Wycliffe, based on their own experience with the Nenets, "The reindeer sustain the Nenets in virtually every way, providing a source of food, shelter, transportation, wealth and clothing - the hides being the only garments that can protect the Nenets from the bitter cold of -60 F."
As you might expect, a significant number of Chernushkin paintings reflect his experiences living with the Nenets tribe. However, he developed numerous artistic focal points throughout his life-time, capturing a wide range of subjects. And, according to his own family members, he enjoyed traveling to various areas around the North Sea, and these were possibly his favorite locations for painting."
Chernushkin was born in 1928 in Liski, Voronezh Region and his art was always at the center of his life. He studied the art of Russian painting at Penza Art College from 1946 to 1951. He became a member of the Belgorod Artist's Union in 1961. From 1961 to 1980 he traveled and worked in creative groups at Academic Dachas, country houses where talented artists were invited to live and concentrate on their work. And, he was awarded the Certificate of Honor by the Cultural Committee and the City and Regional Unions.
Chernushkin's paintings are on permanent display in Russia's Arkhangelsk Art Museum, the Lomonosov Museum, and the Belgorod State Art Museum. Many of his paintings were purchased by the Russian Ministry of Culture, and over 380 of his paintings were bought by various French galleries. As a result, original paintings by Nicolai Dmitrevich Chernushkin are in rather short supply.
The L.P. Cline Gallery currently has a large collection of fine Chernushkin oil paintings available for purchase. And, in honor of this outstanding Russian artist and the Siberian Nenets, as well as to support Christian evangelism and the work of the Wycliffe Bible Translators, "The owners of the L.P. Cline Gallery, Lynn and Dianne Cline, have made a pledge to contribute ten percent of the revenues from the sale of each of these paintings to Wycliffe USA." All contributions will be given in the buyer's name.
"We invite everyone with an interest in high-quality artwork to browse our original Russian paintings and consider a purchase that will support Christian evangelism and the bible translation efforts of the Wycliffe Bible Translators."
The L.P. Cline Gallery was created in 1981 and has been a pioneer in the introduction of high-quality, original Russian Impressionism and Contemporary Russian art into the U.S marketplace. The Gallery offers an outstanding selection of original oil paintings and watercolor paintings by many of Russia's most famous Soviet era and post-Soviet era artists. The Gallery's owners, L.P. and Dianne Cline, are Direct Importers of Russian art and personally select all of the artwork for their Gallery during their frequent artwork inspection and buying trips deep into the Russian provinces. The Gallery serves all fifty states and virtually all international locations from the L.P. Cline Russian Art Gallery located in the heart of beautiful Chattanooga, Tennessee. If you'd like to talk with a Russian art expert, both L.P. and Dianne Cline would be pleased to answer your questions. They can be reached at (423) 265-4786. The L.P. Cline Gallery's website address is http://www.lpcline-russian-art.com.
###