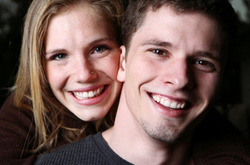 The university president told all the parents to take a look around you, because someone in this room will likely be your child's in-law
Phoenix, AZ (PRWEB) March 31, 2010
With career aspirations of both men and women at an all-time high, the likelihood of coming away from a college education with a potential spouse are not very high. One exception to this trend, however, is at private religious universities, where students with similar values and plans for the future often do find their life partner in college.
"Our best estimates are that around 60 percent of our students meet their future mates at our Christian liberal arts university," said Mik Milem Dean of Students and University pastor at Grand Canyon University (GCU) in Phoenix.
A 2001 study by the Institute for American Values found that 63 percent of college women hoped to find their future husband in college, but with men comprising an estimated 42 percent of the nation's college students, the statistics are not promising.
However, in the case of private, non-secular institutions, where students have similar backgrounds and life plans, the trend seems to favor the quest to find a spouse. The experiences at the Christian liberal arts university, Grand Canyon University, support this theory.
With an abundance of extracurricular student activities and smaller classes, students share more experiences and interact with each other more than a public university where student numbers can exceed 40,000.
When Grand Canyon University CEO Brian Mueller addresses parents during annual orientation, he shares with them his own experience when he first attended his alma mater, a private Lutheran college.
"The university president told all the parents to take a look around you, because someone in this room will likely be your child's in-law," says Mueller.
This prophecy came true for Mueller, as it did for several others who now work at GCU. Athletic Director Keith Baker met his wife at the university, and his father and uncles who all attended the Christian liberal arts university, where they each met their future spouses.
About Grand Canyon University's College of Liberal Arts
Grand Canyon University is Arizona's private university. The College of Liberal Arts (COLA) is the foundational college of Grand Canyon University. It has the largest number of faculty members of any college at the university and provides course offerings as diverse as Molecular Genetics and Robert Frost, with majors ranging from Digital Media and Graphic Design to Christian Studies. We are the backbone of what is called the general education core. These are courses that are required for all student degree programs. GCU is a Christian liberal arts university, and the College of Liberal Arts forms the well-spring from which flows the university and its mission.
###