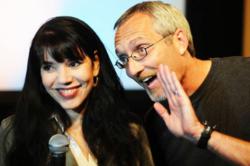 Christian Movie Connect is a one-of-a-kind podcast aimed at supporting and upholding the values of the Christian film community. — Cheryl Ariaz Wicker
(PRWEB) July 20, 2011
Christian Movie Connect (CMC), a Christian movie podcast with news of the latest faith-based movies and Christian personalities on and off screen, will have its first air date on July 27, 2011, featuring John Schneider ("Dukes of Hazzard," "Smallville"), talking about his role on the upcoming "Doonby." Produced and hosted by faith-based film producer and media personality Cheryl Ariaz Wicker, the broadcast quality video podcast will be posted weekly each Wednesday on ChristianMovieConnect.com.
CMC podcasts feature interviews with filmmakers, actors, screenwriters and other newsmakers in the Christian film industry both nationally and abroad. These interviews are conducted at such prestigious Christian industry events as the National Religious Broadcasters Convention, Biola Media Conference, Gideon Media Arts Conference and Film Festival and International Christian Visual Media Catalyst Conference, to name a few.
Film and media personalities featured on future CMC episodes include Bobby Downes ("Like Dandelion Dust"), Jerry Jameson ("Raise the Titanic," "Airport '77," "Murder, She Wrote"), Ken Wales ("Amazing Grace," "Christy"), Jenn Gotzen ("Nixon," "Doonby"), PluggedIn Online's Bob Waliszewski, Dave Christiano ("7th Street Theater," "The Secrets of Jonathan Sperry"), Christian media guru Phil Cooke, Columbia Pictures' Devon Franklin, Walden Media's Micheal Flaherty and 20th Century Fox's Simon Swart; and VeggieTales creator Phil Vischer. Among the well-known Christian leaders that will be featured on CMC to lend their take on the influence of Christian film are media and culture expert Josh McDowell and best-selling author/speaker Anne Graham Lotz, daughter of evangelist Billy Graham.
CMC is produced in the CDR Communications studios and edited by Cortney Matz. Original music is by Philip Wade. Professional on-site videographers include award-winning producer/director/videographer Harold Hay ("The Zone," "180 Videos"), freelance camera operator Angie DeBlieux (E! Entertainment Television, CBS, TNN, CMT and God-TV), documentary filmmaker Jeffrey Worthington, and Hollywood cinematographer Arledge Armenaki ("Welsey," "Life in the Carolinas").
CMC will also have special daily podcasts from the Gideon Media Arts Conference & Film Festival (Gideon) airing from August 7-12, 2011. Gideon is a much-anticipated event that offers interesting workshops and networking opportunities for Christian film industry professionals. Podcast listeners will be able to get up close and personal with and share in the excitement that Gideon activities are known for. Not only can they listen in to one-on-one interviews with film professionals, viewers will also be treated to interesting man-on-the-street interviews on site.
Award-winning film producer and celebrity interviewer Cheryl Ariaz Wicker has interviewed a host of celebrities in her 10-year interviewing career, including national recording artists, best-selling authors, renowned speakers, state and national political leaders, and Hollywood filmmakers and actors.
Wicker explains the purpose of this one-of-a-kind podcast is to support and uphold the values of the Christian film community. "As a producer of faith-based, family friendly and life affirming films, I am an advocate for Christian movies and clean, values-based entertainment. Through positive films, we can inspire movie goers…but greater still, we can promote time-tested values to the culture at large," says Wicker, whose extensive experience in the media and entertainment fields has taken her from being a television news reporter to a four-year hosting/producing stint for Backstage Christian Music Video Show, to a casting director, to a film producer. Her most notable film is "Flag of My Father," starring John Schneider, GiGi Erneta and William Devane, which won the Best Narrative Feature Award at the 2011 GI Film Festival.
For more about CMC and to view the weekly podcast beginning July 27, visit ChristianMovieConnect.com. For more on host/producer Cheryl Ariaz Wicker's work, visit CherylWicker.com.
###