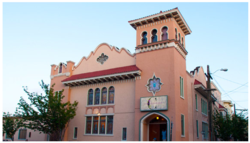 At the heart of Cornerstone's Creative Arts Department is a passion to express truths about the gospel and character of Jesus Christ in a language our culture best understands: story
San Francisco, CA (PRWEB) March 27, 2012
Each year for the past two decades, Cornerstone Church of San Francisco has presented an original Easter production at their Mission District location. Every year members of their church community craft an original script and music for a unique theatrical presentation. Over the years, Cornerstone and their Easter Plays have achieved a degree of notoriety (http://www.sfgate.com/cgi-bin/article.cgi?f=/c/a/2001/04/15/MN144880.DTL&ao=all), and their audience has grown each year, with more Easter services added to accommodate the increased attendance. This Easter's presentation, The Sixth Stage, aims to continue Cornerstone's tradition of presenting the gospel in a relevant fashion via the arts.
"At the heart of Cornerstone's Creative Arts Department is a passion to express truths about the gospel and character of Jesus Christ in a language our culture best understands: story," says Creative Arts Director Gretchen Wanger. Lead Pastor Terry Brisbane adds that Cornerstone's drama presentations "are at times more traditional, and at others -such as this year's - more modern." Brisbane adds that, "they all tell in some way the good news of Jesus Christ and rejoice in the promise of life and hope that can be found uniquely in the one who loved, died on a lonely cross and rose again."
In addition to the expanded Easter weekend schedule at Cornerstone's Mission Campus, the church will also hold two services at their new Lake Merced Campus, located near Lake Merced at 825 Brotherhood Way, for those who are seeking a more traditional Easter service experience. "We are excited to now have two campuses to work with here in the city," states Lead Pastor Terry Brisbane. "This Easter Sunday, along with the live presentations that will be taking place at the mission campus, we will be adding live services at the Lake Merced site. This will allow people to choose in what way they want to celebrate Easter. If it was me, I'd do both!"
For the past 25 years, Cornerstone has increasingly employed Christian music, art, video, and live drama to convey the message of Jesus Christ to San Francisco. Its Mission District location currently hosts four services each weekend: Saturday evenings at 7pm, and Sunday mornings at 9am, 10:30am, and Noon. Their new Lake Merced Campus, located at 825 Brotherhood Way, hosts a weekly service at 11am Sunday mornings. For this year's expanded Easter schedule, Cornerstone will present The Sixth Stage at their Mission Campus Friday evening, April 6 at 8pm, Saturday evening, April 7 at 6pm and 8pm, and Sunday morning, April 8 at 9am, 11am, and 1pm. The Mission Campus will also hold a Good Friday service April 6 at noon. The Lake Merced Campus will hold Easter Sunday Services April 8 at 10am and noon.
In addition to its two campuses, Cornerstone Church also maintains a web presence via its website, Facebook, Twitter, and a weekly podcast. These provide additional points of access for members of their community, as well as for people looking for a new church home, or people who are curious about Christianity and church in general. In addition to providing information, their website also hosts an archive of past messages and video/drama presentations.
For more information about Cornerstone Church, call (415)854-0525, visit them on the web at http://www.cornerstone-sf.org, or email them at info(aT)cornerstone-sf(dot)org.
About Cornerstone Church of San Francisco
Cornerstone Church, a non-denominational church in San Francisco has been a part of San Francisco's church community offering spiritual growth since 1953. With five weekend services hosted at two campuses each week, Cornerstone is known for its welcoming environment, practical teaching, and innovative use of music and the arts. Cornerstone Church's weekly Mission Campus services are Saturday evenings at 7pm, and Sunday mornings at 9am, 10:30am, and Noon. Their weekly Lake Merced Campus service is 11am Sunday mornings.